MGR Motorsport and its young charger, Colin Noble, came of age with a trio of strong performances in the Formula Renault Northern European Cup finale at Hockenheim. The points tally from the final round was sufficient to seal P10 in the drivers' title race for the young Scot and an impressive 5th overall for the team.
Having enjoyed enormous success in the UK, 2015 marked the team's first full season of international competition. With the goal of finishing their maiden campaign among the championship front-runners, Colin and MGR had to maintain their positive run of form.
In the qualifying sessions, Colin's times were consistent and kept him in the mix for each of the three races.
Starting the opening race from P13, he was keen to make up ground during the early stages. However, a tangle with fellow Brit Alex Gill in the circuit's famous Stadium section saw the pair both take a trip through the gravel trap. Gill went in backwards and beached his car but Noble - able to maintain his momentum and surviving a brush with the Armco – was able to rejoin the fray, albeit in last place.
With Gill' stricken car needing to be retrieved, a Safety Car period ensued. As the field circulated, Colin regained his composure and at the restart, immediately overtook Mikko Perttala.
By lap 5 Noble was on a charge and he passed two more drivers. Putting the hammer down, he bridged a five-second gap to catch Bartłomiej Mirecki, whom he duly dispatched on lap 11. Three laps later, Bruno Baptista ceded his place to the rampant MGR driver, leaving Colin in 14th position on the final tour.
He was awarded an extra place, when Stefan Riener was handed a post-race penalty for over-taking under the safety car, classifying him in 13th.
In contrast to Saturday's dry conditions, heavy rain greeted the drivers prior to the start of Race 2, causing it to be started behind the Safety Car. Such was the downpour that many of the competitors struggled to find any grip and were caught out.
Jehan Daruvala spun, while Moscow's Nikita Mazepin crashed into the barriers – both boosting Noble to 9th. However, this was his first experience of racing the MGR-run Renault 2.0 car in the rain and he too went searching for grip. As he did, he was caught and passed in succession by Max Defourny and Bruno Baptista. Unfazed, Colin harried Baptista and his pressure paid off when the Brazilian spun. With the SC again deployed as the marshals recovered Bruno's car, Colin took the chequered flag in 10th place.
The third and final race started with more drama. Gill span and was collected by AVF's Josef Zaruba, putting both cars out on the spot. Once again a Safety Car period was called and at the restart, Colin was in P9.
However, his mirrors were filled by the marauding Mirecki and, as he tried to defend his position, he out-braked himself and not only opened the door for the Pole, but also Reiner and Denis Bulatov.
Now 12th, he stole a place back when Mazepin misjudged his braking into Mercedes and ran wide in the corner. On the last lap he couldn't contain the charging Daruvala and opted for P12 – and the points - rather than risk a last-lap drama.
"Colin's results meant a final position in the championship of 10th, with MGR taking 5th in the team championship," reflected Team manager, Stephen Lynch. "It was a great first full season in NEC for us, made all the more satisfying by a top ten finish for Colin in his first season in FR2.0. It gives the team a great platform to build on for next year."
In readiness for the 2016 season, MGR has announced a comprehensive testing programme. Full details are available on the website.
Nurburgring. Just the very word is redolent with history, drama and tales of heroism. For the youngsters learning the craft of being a racing driver, the prospect of competing at the modern version of the legendary track is enough to make the nerves prickle.
So for the team's newcomer, Ameya, making his MGR debut in Germany was a daunting enough prospect. And with 'old hand' Colin Noble challenging to break into the championship top ten, the team faced an exciting weekend.
Introducing MGR's new charger, team manager Stephen Lynch said: "Ameya is in his first year of car racing and is dovetailing a career in BRDC F4, with the new MSA championship for 2015. After gaining two podiums during the last BRDC F4 round at Donington and having had a few outings in the FR2.0, Ameya wanted to experience the next level and compete at the legendary Nurburgring."

In the first qualifying session, Vaidyanathan put in a solid performance, to go 17th-fastest, while Noble was somewhat baffled after he posted only the 14th-best time.
However, he improved by a full second in Q2 and moved up a place on the grid. Ameya also went quicker and moved up one slot.
In the weekend's opening race both drivers got away well from the start-line but during the opening lap, Noble – who was trying to follow the hard charging Dries Vanthoor - tangled with Bruno Baptista. Having damaged his front wing, Colin pitted for a new nosecone and rejoined the fray, albeit a lap down and at the tail of the field.
Ameya, meanwhile, drove solidly throughout to cross the line in 16th place, with his team-mate a frustrated 20th.
Eager to make up for a disappointing first race, Colin made up two places shortly after the start of Race 2. A lap later, he was up to 10th and challenging the cars ahead.
"His cause was helped further on lap 7 when Ukyo Sasahara and Louis Deletraz, who were fighting for the lead, ran wide at Turn 1 and allowed the chasing pack through," recalled Lynch. "In this moment Colin gained two positions and was up to 8th."
Sasahara responded to his error by going on a charge and chased down Noble. Catching him on the last lap, the Japanese star made his move at the final corner, pipping the MGR man to the line Colin to the line by two tenths of a second.
"A P9 finish from a P13 start was a good result," Lynch stated emphatically, adding: "Ameya did not get the best of starts and dropped to 19th on lap one but fought his way back up the order. He was running in 14th before being overtaken by Nikita Mazepin and then, with just two laps remaining Pontus Fredricsson nipped past. He eventually came home 16th but all in all, it was a good weekend for him on his first European Cup outing."
For Colin, despite not having the run of the green, his points tally keeps him firmly in the hunt for a top ten finish in the championship, whilst also lifting MGR up to 5th overall in the team classification.
4TH AUGUST 2015
Dutch courage: Noble overcomes damaged steering to finish inside the top ten at Assen
Assen may well be better known for hosting the Dutch round of the MotoGP series - but for one weekend every summer it is the roar of car engines that excites the passionate local fans. In the first qualifying session, Colin's fastest lap was barely 8/10ths of a second shy of pole position. Still, this was good enough for P9 on the grid.
In the following session - as the track improved - the talented young Scot managed to find an extra half a second of pace. However, with his rivals also finding time, Colin eventually wound up 11th-fastest and in that position for the start of Race 2.
Race 1 proved to be a somewhat pedestrian affair. Colin made an effective start, but was out-dragged on the run to the first corner, losing a place in the process. However, as he and the race found its rhythm, he remained anchored in P10, until lap 12 when Russia's Nikita Mazepin made a mistake and the MGR driver took his chance, snatching 9th, which he then held to the flag.
The following encounter saw Noble make a clean getaway from the line and hold position during the opening exchanges. With the race in its early stages, Jehan Daruvala and Dennis Olsen scrapped hard over the minor placings, allowing Noble to close in and join the fray.
Former junior British karting champion Daruvala blocked Colin's initial lunge, compromising the MGR driver's speed which, in turn, allowed Henrique Chaves to execute a scruffy pass. As he did so, contact was made, damaging Noble's steering.
Although able to continue, Colin now found himself contending with an ill-handling car but drove superbly to take the chequered flag in a fine 10th position.
A rain-interrupted fourth round of the Formula Renault NEC Championship prevented MGR and Colin Noble fighting for a stronger finish at Spa-Francorchamps circuit.
One of the most iconic and daunting venues on the international race calendar faced the competitors as the NEC series reached its halfway mark. With evocative names for its corners - such as Eau Rouge, Stavelot and La Source - it is little wonder that Spa is as much a rite of passage for a young driver as it is a place where reputations are forged. Every driver wants a victory at the Belgian track on their CV.
Qualifying got underway in warm and dry conditions, with Noble recording the 13th-fastest time for both races.
As the field blasted away to start Race 1, Colin made a good start and got the better of Alex Gill on the run into La Source. However, moving to the outside of the corner, in an attempt to find clear space on the exit, enabled Gill to take the inside, while Colin found his path baulked on the plunge down to Eau Rouge.
Bravely running side-by-side with another car into and through the world-famous bend, Noble's exit speed was compromised. As he attempted to accelerate along the Kemmel Straight, the young Scot was out-dragged and lost four places before he reached Les Combes.
In typical fashion, he responded to his new found 18th place by immediately fighting back. The MGR driver started lap two in 16th place – such was the dramatic nature of the opening tour.
With his car's set-up and tyres coming 'on', Colin was now firmly on the move and by lap three had made up further ground, to 14th. His next target was Alex Gill who had quite a margin over him, but a series of super-quick circuits saw him catch and pass the Englishman on lap seven.
Noble began to reel in the highly-rated Dan Ticktum and, again, used his superior pace to slice past his quarry for 11th. As he did so, however, he took with him the charging Charlie Eastwood. The Belfast man was recovering from a lowly grid position and began to harry the back of Noble's car.
His pressure eventually paid off and he was able to squeeze past. Despite a battle royal, Colin was unable to wrest the position back and had to settle for 12th at the flag.
In characteristic fashion, the unique micro climate created by the surrounding Ardennes ensured that rain would play a significant role in the event. Saturday morning dawned with plenty of the wet stuff falling around the circuit, prompting the stewards to start Race 2 behind the Safety Car.
With memories of Jules Bianchi's all too premature death following his accident at the rain-sodden Japanese Grand Prix last year, the drivers' safety was paramount and the opening three laps were conducted behind the SC. However, with the conditions showing no sign of improving the race was red-flagged after 15 minutes and a result declared. Colin was awarded 12th after Habsburg pitted on lap one of the safety car period.
The team returns to NEC action this weekend (1/2 August) at Assen, in Holland.
The Red Bull Ring in Austria played host to round three of the Formula Renault Northern European Cup (NEC) last weekend (6/7 June) with Colin Noble upholding MGR's honours in fine style. With a brace of top ten finishes in the championship's opening four races, the team was confident that it could again carry the fight to the established big teams at the current home of the Austrian Grand Prix.
In the first of the two, back-to-back qualifying sessions, the young Scot recorded a lap just 0.62 off the pole-position time to net P8 on the grid for the opening race. His next-best time decided where he would start Race 3 and, somewhat confusingly, it was good enough for P7.
Buoyed by this, the team opted to put fresh tyres on the car and make small set-up changes during the five-minute break between the two sessions. The gamble paid-off and Colin's efforts at the wheel yielded another P7 – this time just 0.44 shy of pole position and, agonizingly, a mere 0.1 of a second from the third spot on the grid.
Race 1
An effective start saw Colin maintain his 8th-place starting position during the opening laps. On the fourth tour a bold move from Ferdinand Habsburg on Darius Oskoui resulted in contact between the pair and launching the unfortunate Oskoui into the rear of Noble's car, damaging the rear suspension.
"He managed to bring it back to the pits at the end of the lap, but there was nothing we could do and Colin was forced to retire," explained Team Manager Stephen Lynch.
Race 2
Another well-executed start saw Noble accelerate off the line and maintain his initial 7th place, but as the field jockeyed for track position on the entry into Turn One, the MGR star was baulked. Unable to get the power on early, he lost several places as the pack headed towards Turn two.
Now 12th, Colin was pushed back a further place, but had lost none of his fighting spirit. He managed to claw his way back into 12th and picked up another place two laps later. Closing in on Dries Vanthoor's rear wing, Noble piled on the pressure and was eventually rewarded with another scalp. A penalty handed to Ukyo Sasahara for exceeding the track limits further boosted the Brit up the finishing order, to an eventual 9th place.
Race 3
Again going off P7, this time Colin made sure that he held station as the field vied for any advantage during the first lap. The following seven tours saw him looking comfortable, but he was gradually reeled in by both Josef Zaruba and Charlie Eastwood. Forced to defend from the advances of the former, Eastwood saw his chance to pass both cars and took it. With Noble exposed, Zaruba went with his team-mate but a feisty response from Colin saw him stick his nose ahead before they'd reached the next corner.
Their fight allowed Eastwood the breathing space he needed and he was able to create enough of a gap that forced Noble to settle for 8th at the chequered flag.

Silverstone, the iconic home of the British Grand Prix hosted rounds 7, 8 and 9 of the BRDC Formula 4 Championship on 30-31 May) with MGR looking to build on its success at Rockingham.
Qualifying
Pushing hard, Hernan Fallas discovered the limits of his tyres' adhesion and beached his car in a gravel trap. Prior to this, the young Argentinian had been running inside the top ten with improving sectors in each consecutive lap. His 'moment' saw him qualify in 16th place overall for the first race. His team-mate, Michael O'Brien struggled to find the perfect balance for his car and could only post the 18th-fastest time.
Race 1
Making amends for his earlier mistake, Hernan got a good start off the line and by lap three had made his way up to 11th position, with Michael also on the move and up to 16th.
Contact between Riki Christodoulou and Harri Newey put both out of the race, promoting the MGR drivers further up the order.
By lap five, Hernan was 8th and held this to the chequered flag, despite coming under heavy pressure from Fernando Urrutia. Michael came home in 12th place, following a long tussle with the determined Ameya Vaidyanathan.
Race 2
Hernan started from Pole and maintained his advantage for the first few laps. However, he was hounded by Sisa Ngebulana who found a gap on lap four and took the lead.
This inspired Rodrigo Fonseca to try his hand and he duly launched a successful bid for Hernan's place. As an after-effect of this, Fallas was pushed into the clutches of a gaggle of cars. Tom Jackson found a gap and wriggled past but seeing Will Palmer trying to go with him, Hernan moved to close the door and the pair touched. The contact was sufficient to spin Fallas of the circuit with a damaged right rear corner of his car.
Michael had initially lost several places during the early exchanges but by virtue of a series of incidents ahead of him, and some deft overtaking moves, he fought his way up to 10th by the chequered flag.
Race 3
With Hernan starting P10 and Michael P16, MGR looked forward to the weekend's finale. A rookie error on the formation lap saw Fallas spin as he tried to warm his tyres up, requiring him to start from the rear of the field.
Desperate to make up the lost ground, Hernan's over-enthusiasm was punished by a spin on the second lap. This dropped him further behind the pack and he eventually came home in a frustrated 19th. Enjoying a more positive experience, Michael again made progress and crossed the
finishing line in 13th.
Having kicked off at one iconic venue – Monza – the second round of the Formula Renault NEC Championship took the teams to another historic setting; Silverstone (23-24 May).
Having never seen, let alone driven Monza before, Colin gave an admirable account of himself. Now, on far more familiar soil, he and MGR were hoping to build on their solid start to the season. The early signs augured well, with the Penicuik-based youngster featuring on the list of the top fifteen drivers in each of the four practice sessions.
Using their 'local' knowledge, Colin and MGR posted the 10th-fastest time during the first qualifying run. In the second, and just as he had done previously in Italy, Noble found extra time – this time by a whole second – but found himself in 12th place.
Race 1
A largely uneventful race for Colin saw him drive effectively, capitalising from Max Defourny's demise on lap seven and fending off the attentions of fellow Brit Alex Gill on the run to the chequered flag.
Race 2
A crash in the midfield just moments after the start was enough to bring out the Safety Car, which circulated for the first half of the race as the marshals retrieved the stricken cars of Nikita Mazepin and Luke Chudleigh.
At the restart, Colin held his starting position (12th) and stayed there to the flag, this time circulating behind Gill.

The second round in the 2014 BRDC Formula 4 season saw MGR join its fellow competitors at Rockingham circuit in Northamptonshire (2/3 May). In Saturday's timed qualifying session, the team's Argentinian prospect, Hernan Fallas was 10th-fastest overall with team-mate Michael O'Brien 17th, after experiencing a brake caliper issue that prevented him from completing the session.
Race 1
Hernan got a good start and made up places on the run into the first corner, but moments later he was out of the race. HHC Motorsport's Will Palmer had lost control at Turn 1, hit the barriers and bounced back onto the track. Palmer's stricken car slid in front of Fallas leaving him with nowhere to go - the resultant damage to his car's front wing and suspension put the South American out on the spot.
Experiencing contrasting fortunes to Hernan, Michael was rapidly making up ground, having started from the pit lane.
"After the problem with his car in qualifying, we made the decision to start him from the pits on new tyres," said MGR's Team Manager, Stephen Lynch. "The intention being that he would set a fast lap time, which would give him a good starting position for Race 3 on Sunday".
Knowing that the grid for this final race of the weekend would be determined by the drivers' fastest lap times from either of the previous two races, Lynch added: "Rain was forecast for Sunday, so we knew that the quickest lap would come from Race 1. Race 2 was scheduled for Sunday morning."
As the rest of the field tore away from the grid, Michael waited patiently at the end of the pit lane until all the cars were safely underway before joining the fray, at the back. Matters quickly played into his hands as the crash involving Palmer and Fallas sparked a chain-reaction. Tom Jackson, Fernando Urrutia and Harri Newey joined the former pair on the side-lines as O'Brien found himself leapfrogging his way up to 15th by the end of the first lap. With the safety car deployed and bunching up the field, Michael was able to join up with the reminder of the pack.
"We gave Michael the signal to push on and. when the safety car came in he used the advantage of his fresh tyres to pick his way through the order to 11th, with a lap to go. He then capitalised on two cars fighting in front of him to nip up their inside at the hairpin and take a well-judged 9th."
However, the drama wasn't yet over. When Akhil Rabindra span at the very last corner O'Brien deftly avoided him to snatch 8th place and pole position for the reverse-grid Race 2.
Race 2
Despite a solid getaway from the start line, Michael was overhauled on the dash into Turn 1 by the fast-starting Jordan Albert. Keeping his cool, O'Brien managed to get the cut-back on the SWR driver and retake the advantage. From there he survived two Safety Car periods to claim a superb lights-to-flag victory and notch up MGR's first win of the 2015 season.
"He came under intense pressure during the closing stages from Tom Jackson, who had come through the field and passed Albert, but managed to hold on for the win in wet conditions," said a delighted Lynch.
Hernan completed his race in a fine 10th place, having started from 18th on the grid.
Race 3
The consequences of not being able to complete a lap in the first race, and taking his fastest-lap from the rain-lashed second encounter, saw Hernan line his MGR-run machine on P20 of the drying grid. Michael's view of the first corner was much closer, with him able to go from the inside of row four by virtue of setting the 7th-quickest lap-time in Saturday's dry Race 1.
Both MGR men made clean starts and were running well, with Fallas having made up several places on the opening tour of the Northamptonshire venue. He was battling with the hard-charging Palmer when a coming-together prematurely brought the curtain down on what was developing into a terrific scrap for the spectators, as Stephen explains: "After Hernan had passed him at Turn 1, Will (Palmer) tried to regain his place at Turn 2 with a move down the inside. Unfortunately, he only succeeded in crashing into the right rear of Hernan's car, damaging the suspension and forcing him into immediate retirement. This was on lap two, which makes it all the more frustrating."
Meanwhile, Michael was running well inside the top ten, but an ill-starred lunge by Sisa Ngebulana took the former downhill mountain bike champion out at the hairpin. With his car beached in the gravel trap, Michael had little choice other than to climb out of the car and walk back to the pits.
"Ngebulana was later punished for by the stewards with six penalty points and exclusion from the race, but we can take little comfort from that," rued Lynch. "Still, overall we can draw many positives, not least Michael's victory in challenging conditions. Hernan too showed he has pace and can overtake people clinically, so there is much to build on and be very pleased with."

If ever a place could symbolise an entire sport, then surely Monza is motor racing. Even its name excites the emotions - but it is still a daunting place to go to. Especially for the first round of major championship – the Formula Renault Northern European Cup (11-12 April).
Thus MGR and Colin Noble found themselves at the legendary Italian track, preparing to go head-to-head with some of Europe's biggest and most successful teams, with a whole host of talented drivers.
Having concluded a late deal with the team, the Scottish teenager's first time in the car was during Friday practice, which also marked his maiden appearance at Monza.
Sensibly, the team opted to use Friday as an opportunity for Colin to learn the circuit and to fettle the new car. However, he was able to produce consistent lap-times in each of the four sessions, putting him well inside the top twenty runners.
Saturday saw matters become serious, with timed qualifying. However, the tension was ramped-up by a red flag incident with three minutes remaining. At the time Colin was 11th-fastest, a position he was able to maintain when the cars were allowed back out on track to complete the session.
In the following qualifying period, Colin found extra speed but it was only good enough for P20 on the grid for Race 2.
Race 1
Starting from the inside of row six, Noble held his position at the start and drove well in the opening laps. As the race progressed, he latched onto the tale of Canada's Zachary Cleman De Melo and a battle royal ensued. It was finally settled with a fine manoeuvre by the MGR man, moving him up to 10th. A post-race penalty for Louis Deletraz saw Colin promoted to 9th – adding a surprising and rewarding postscript to a terrific Formula Renault NEC debut.
Race 2
A five-car pile-up at the first chicane handed Colin an early present, just moments into the race. However, as he tried to continue his progress up the order, he was joined by Ignazio D'Agosto. The Italian had finished 2nd in the opening race, but a misjudged attempt to pass Colin saw the pair tangle and both retired. For Noble, his frustration was all the more palpable as he firmly believed he had the speed to pull off another top ten finish.

5TH APRIL 2015
BRDC F4 – Round 1, Oulton Park
The first BRDC F4 Round of the season saw the team at Oulton Park in Cheshire. On the Wednesday there was an official F4 test day and this would give both Hernan and Michael their first taste of the circuit in the F4.
Both drivers improved as the day progressed however with 20 minutes of the day left Hernan slid off the circuit approaching the Shell Oils corner. The car dug in on the wet grass and rolled 4 times before coming to a halt. Hernan was unhurt and walked away, a testament to the strength of the car. Unfortunately the car itself was very badly damaged and work began as soon the car was recovered to rebuild it. Fortunately for the mechanics the Thursday was allocated for teams to set up awnings and this gave us added time to complete the rebuild. New bodywork panels were delivered on Friday morning allowing us to get Hernan out for the last sessions of the Friday test to give the car a shake down.
Michael meanwhile completed all sessions of the Friday test and continued to improve on his times as the day went on.
The Saturday qualifying session saw Michael put in a good performance and secure P14 on the grid with Hernan in P16 after having his quickest 3 lap times deleted for exceeding track limits. In Race 1 later that day Michael produced a solid performance to bring the car home in 13th with Hernan struggling with oversteer in 17th.
In Sunday's first race Michael got a good start and made up positions on the first lap, after a few good battles during the race Michael finished 11th and was happy with his performance having started 13th. Hernan had started in 17th and had made good progress in the opening laps until an overtaking move into Old Hall saw him spin into the barriers ending his race.
Race 3 again saw Michael race well and make his way up from 17th to 14th at the chequered flag. Hernan was again involved in a close racing battle in the midfield having started 11th and was tagged into a spin mid-race although recovered to finish in 17th.

6TH APRIL 2015
NOBLE TO COMPETE IN FORMULA RENAULT NEC
Colin Noble has signed an 11th hour deal to compete with MGR in the Formula Renault 2.0NEC Championship for this season.
Having ran with the team in Protyre Formula Renault in 2014, taking his maiden win in the BTCC Supported Finale at Silverstone Colin had been in discussion with the team as regards his next step. With a move into the new MSA Formula or BRDC F4 looking the most likely option, a last minute deal to compete in the Northern European Cup has now been finalised.
Colin will drive the car for the first time at the pre-race test this Friday (10th April) at the famous Monza Circuit in Italy and will compete in 2 qualifying sessions and 2 races during the weekend (11th & 12th April).
Commenting on the deal Team Manager Steve Lynch said "It is fantastic to have Colin back on board and driving the 2.0 Renault. He showed great pace last year in BARC Renault and finished the season strongly. To step up to 2.0NEC looked the most natural progression and Mark (Godwin) worked hard on putting the deal together. We will go to Monza with Colin having not driven the car or the circuit so need to be realistic about our targets for this weekend. It will be a steep learning curve although I am sure we will give a good account of ourselves."

Michael O'Brien will join Mark Godwin Racing for a full 2015 campaign in the Duo BRDC Formula 4 Championship. O'Brien graduates to BRDC F4 after stints racing in Historic Formula Ford and the Formula Ford Championship of Great Britain in 2014.
O'Brien, who lives in Helmdon near Silverstone, is a former British number one Downhill mountain biker, competing in events across the country, before he made the switch to single-seater racing last year. O'Brien comes from a family with a strong racing pedigree as his father Mike enjoyed a successful racing career through the late 1970s and 1980s, including a victory in the British Touring Car Championship. With his Speedsport team, he took drivers including Darren Manning to Formula Three successes and has helped his son Michael to take his first racing steps in 2014.
He will race alongside MGR's other driver, Argentine racer Hernan Fallas.
Michael O'Brien commented: "I feel extremely honoured to join a series as prestigious as the Duo BRDC Formula 4 Championship. It is the perfect place for me as it offers fantastic media exposure and great support to enable me to advance my career. I have been very impressed with the car and the level of help we have received. We won't have had much time in the car ahead of Oulton Park but we are confident we can make a good start to the championship and challenge for the title."
MGR Team Principal Mark Godwin added: "I'm really pleased to have finally agreed a deal with Michael, as we have been looking to run him from as far back as the beginning of last year. Despite having limited time in the car so far, I expect Michael to be at the sharp end quite quickly as he showed competitive form in the Formula Ford races he did last year. I've known Michael's father for a number of years and I know the way he works so I am sure it will prove to be a successful partnership for all concerned."

25TH MARCH 2015
Hyman and MGR dominate at Official Formula Renault Test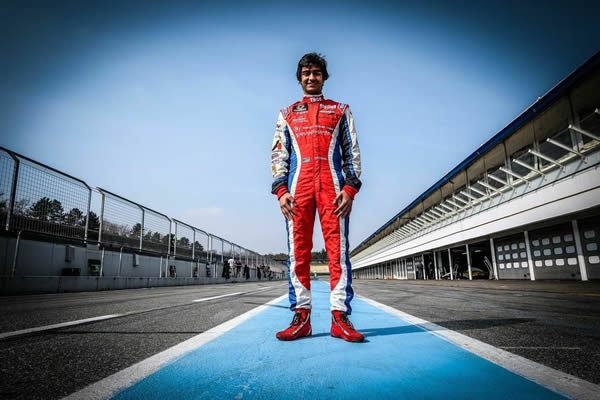 Raoul Hyman and MGR Motorsport dominated at the Official Formula Renault Pre-Season Test at Hockenheimring, in Germany.
The South African born Londoner set a blistering pace to claim the overall top spot in the morning session, and then set a searing pace in the afternoon that only he himself improved on. In fact so strong was his pace that he finished the day 0.7 seconds clear of the field, with any of three of his hot laps quick enough for pole. What's impressive was that it was his first visit to the Hockenheimring, and he was also in very good company.
He had this to say: "I am very pleased to have topped both sessions on the final day. To be fair, I had a very good car. We worked consistently on the set-up yesterday, but did not get to do a new tyre run because of the red flag. The car felt very good though. Today I had the luxury of two cars at my disposal, and I really must thank the Team. Yesterday, they decided to start building a new car for me so that we could perform a few back-to-back tests. They really went into a great deal of trouble. So I am pleased to have rewarded their effort with such a strong run on new tyres. Once again, credit must go to Mark and the Team. He continued to work with me until we found a set-up that was more consistent at high speed. This is what produced the lap time in the end."
Team Principal of MGR, Mark Godwin, added: "Well it's a pleasure working with a talented youngster like Raoul. In addition to being fast, he offers very good feed-back, and that is what helps us build fast cars. Even though he was fast yesterday, I could see that he was not completely satisfied with the handling, so I decided to build the second car that we had in the transporter overnight, and try a different set-up for some back-to-back tests. The lap time says it all, and he hit traffic on that fastest lap! I am told it is quite a way under the lap record! Whilst Raoul credits the car, I think it fair to say that he is an exceptional talent, and he rewards the Teams efforts. It is also good to demonstrate that as a small and personal Team, we can take on the bigger teams, and produce the kind of stunning result that we did today. Big smiles on our side. We are very pleased to have topped this Official Test."

20TH MARCH 2015
Hyman Impressive at a wet Spa Francochamps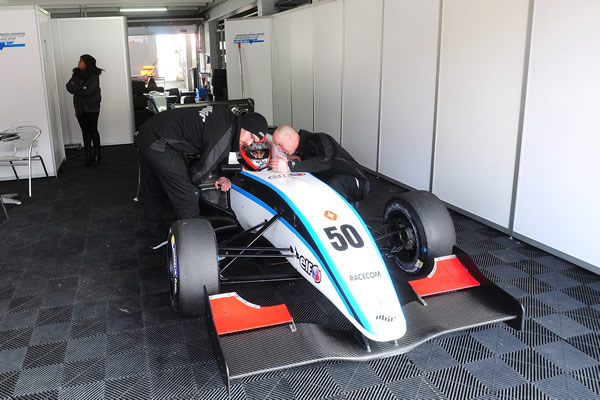 Raoul Hyman was impressive on his first outing to the famous Spa Francochamps circuit in Belgium. Testing with MGR Motorsport in a Formula Renault 2.0, the London based South African was fastest in the wet, and at one point lapping consistently 1.5 seconds faster than any other car on track, including a F3 car. He was equally impressive in the dry, and was disappointed when his fastest time was beaten by a tenth, as other competitors used more sets of new tyres. Overall it was an impressive debut and both driver and Team showed very strong pace.
Team Principal Mark Godwin commented: 'Raoul was really impressive in the wet, and even more so because it was his first time at Spa. He quite clearly learns circuits very quickly, and has very good car control. I believe he would have remained fastest in the dry as well, had we continued to slap on sets of new tyres. There is a time when one has to be sensible about this, and I didn't see any point in using more than two sets of tyres. Given some of the quality competitors that were here over these two days, I am pleased. It demonstrates that our Team has both the speed, and the technical knowledge to run at the front.'
Raoul had this to say: 'I really enjoyed driving at Spa, and can see why it is known as a 'drivers circuit.' I had a big smile on my face inside the helmet. I was surprised though, that the parts of the circuit that I thought were going to be daunting were not, yet others were. Eau Rouge is flat in a Formula Renault, and I was not expecting that, yet there were other parts that were more challenging than I expected. The car was also set up very well, and full credit to Mark and the Team at MGR. To be direct, I was not expecting such a competitive package because they did not compete in the full season last year. I was very pleasantly surprised. In addition to the excellent technical preparation Mark offered me, he also adapted the car to my driving style, and that really helped me to challenge the established front-runners that were present.'

Hernan Fallas joins MGR for the upcoming season.
Fallas, who has tested with the team on numerous occasions in the past two years, will contest a full campaign with MGR and is the outfit's first confirmed driver for this season. The 20-year-old has competed in Formula Metropolitana in Argentina for the last two years, achieving two race wins in 2014 and demonstrating excellent speed by taking five pole positions.
He began his motorsport career racing in the Argentinean Kart Championship and regional events. Graduating to single-seater racing in 2011, Fallas spent two years competing in Formula 4 Nueva Generacion in his native country, finishing on the podium twice.
Fallas said: "The amount of track time in the Duo BRDC F4 Championship is extremely impressive and, as it is my first year racing in Europe, I need as much track time as possible. I have been testing the car and have felt very comfortable, posting some good lap times. The team have made me feel very comfortable and I already feel at home."
Team Principal Mark Godwin said: "Hernan tested with us a couple of times last winter and displayed a really good turn of speed. He showed an ability to learn the circuits very quickly, even though he hadn't seen them before, and we have high hopes for him achieving some good results this year."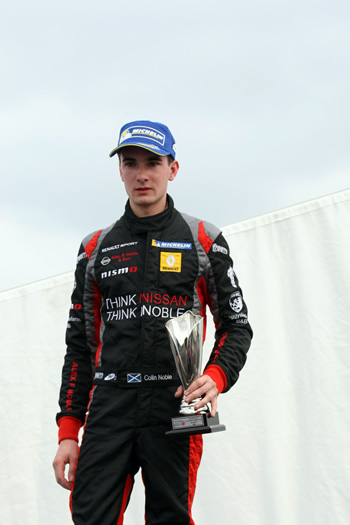 Photos courtesy Paul Davies/PDPhoto.
Colin Noble Jnr delivered on the pace and promise he has shown throughout the season when he claimed his maiden Protyre Formula Renault victory during the championship's final weekend at Silverstone (27 September).
The Scot raced to a nail-biting round 14 win from pole position – also his first of the season – after resisting race-long pressure from eventual runner-up, Piers Hickin. Playing to the large BTCC crowd, the pair entertained with an enthralling battle in which they traded fastest laps throughout the 18-lap thriller. Noble's MGR team-mate, Matteo Ferrer was also in fine form and completed the podium, ahead of Champion-elect, Pietro Fittipaldi.
Their scrap for the last step on the podium was equally spirited, with Pietro tipping Matteo into a spin just four laps from home. This prompted a terrific fightback from the Italian, who dropped to 5th but rapidly caught and passed America's TJ Fischer for 4th. Post-race the Clerk of the Course handed Fittipaldi a 10-second penalty for 'gaining an unfair advantage' as a result of the on-track incident.
Commenting on the drama, MGR owner, Mark Godwin said: "Colin drove superbly. At times he was under quite a bit of pressure from Hickin. He managed the gap well - albeit the run to the finish line was pretty tense! The battle between Matteo and Pietro was fantastic; it was a shame that contact was made although it was unintentional. Luckily Matteo was able to carry on and fight his way back into position. The Clerk of the Course's decision to give Pietro a 10-second penalty reversed the order - back in Matteo's favour - and we accept that."
Albeit that Pietro had put the 2014 title beyond doubt with his wins at Croft - the previous weekend (20/21 September) - the question of who would be vice-Champion had yet to be resolved and Ferrer was one of the protagonists vying for this honour. He announced his attentions by pipping his closest rival, Hickin, to P2 in the qualifying shoot-out. Noble was in close company, going off the second row (4th), whilst Fittipaldi produced a superlative lap to net pole position for round 15.
However, after the race had got underway a rare mistake by the Brazilian allowed Hickin to hit the front as the field started the second tour. Colin and Matteo followed the new race leader - demoting their team-mate to 4th. From there Hickin and Noble would run nose-to-tail for the remainder of the race, with the deadlock only broken by the chequered flag.
The South American quickly recovered his composure to harry Ferrer's gearbox but with Fischer rapidly closing in on the squabbling MGR pair. The newly-formed trio wowed the fans as they raced three-abreast. Fischer snatched 3rd on lap three but Ferrer, like a dog with a bone, refused to give up the fight. On lap ten, his efforts were rewarded and he moved back into the podium placings. Fittipaldi was also able to take advantage of Fischer running wide and slipped back into 4th at Brooklands.
Now with the bit firmly between his teeth, Pietro redoubled his efforts to pass his fellow MGR driver and two laps later, Matteo left a gap and the Brazilian committed himself to a passing attempt. They touched, resulting in damage to the Italian driver's front wing, compromising his car's handling and straight line speed. Fittipaldi was unscathed and hot-footed it after Noble and Hickin, whilst Ferrer was unable to hold off Fischer and was pushed back to 5th.
Pietro closed the 3-second gap to the Hickin/Noble battle on the last lap but, despite drawing alongside Colin on the run to the line, had to settle for 3rd – his 12th podium of the season. However, he was able to take further satisfaction from having set the fastest lap of the race; underlining what might have been had the race been a fraction longer. Noble was also able to bask in the glory of his most successful weekend of the campaign, by adding 2nd to his earlier win. Ferrer's 5th earned him 3rd overall in the championship; a fabulous result considering his lack of experience.
Reflecting on the weekend and the championship as a whole, MGR Team Manager Steve Lynch said: "It's been another great weekend. I'm delighted that Colin has taken a win. He has shown great pace all season and he deserved his victory. With better luck during the season he may have had a few more. Overall, it's been a fantastic year for the team; to have taken 12 wins from 15 races, with Pietro accounting for 10 of them, is something that we could never have imagined at the outset. Pietro, Matteo, Colin and Tarun have all been terrific and a real pleasure to work with. Credit must also go to all our engineers and mechanics, who worked so hard to achieve these results. We'll continue our preparations over the winter, in readiness for our expansion into the Formula Renault 2.0 ALPS and NEC series in 2015."

Pietro Fittipaldi's mastery of the 2014 Protyre Formula Renault series saw the young Brazilian put the championship beyond his rivals' reach with a round to spare, as the MGR racer took his tenth victory of the season at Croft (21 September).
The Surry-based teenager had travelled to the North Yorkshire circuit with one hand on the trophy and simply needed to maintain his points and race-winning momentum to settle matters in his favour.
Getting round 13 underway, Fittipaldi's distinctive white, red and blue MGR-run car launched nimbly off the start-line to snatch the lead from pole-sitter Alex Gill, to commence what became a cakewalk to the finish. Such was Pietro's dominance, that he crossed the line nearly six seconds clear of Gill. The additional points for setting the fastest lap confirmed the grandson of double World Champion Emerson Fittipaldi, as the 2014 victor.
Fellow MGR drivers, Colin Noble Jnr and Matteo Ferrer crossed the line in 4th and 5th respectively; the latter netting more valuable points to keep him in the frame for the championship's runner-up spot. Tarun Reddy finished 7th, after exploring the outer limits of his tyres' adhesion through Tower bend.
The previous race (round 12 of 15) had seen Pietro advance further to the coveted title with 2nd place. He had led the re-started race – prompted by a faulty lighting gantry – after out-dragging pole-man Ferrer on the run to the first corner. Noble also made a great start to make it an MGR 1,2,3 in the opening stages.
A mistake whilst bidding for the lead at Sunny cost Matteo two places but as he gathered himself, the race was red-flagged following an incident between Tarun and the Canadian, Patrick Dussault.
The officials were able to re-start the race, gridding the competitors up in the places they had been running in during lap two. This gave Pietro P1 with Colin 2nd and Matteo 3rd. Fittipaldi made the most of his front row position to lead the field away cleanly but a bold passing attempt by Noble saw both lose momentum and Piers Hickin surged past the pair of them.
Fittipaldi was able to hang onto 2nd but Noble was pushed to 4th by Gill. As the race progressed, Pietro felt his car 'come on' and he began to pick up the pace as he pursued Hickin. In fact, such was his speed that he set a new lap record – breaking the previous one that had stood for the last nine years.
However, Pietro's new benchmark of 1m20.921 seconds (94.53mph) was not quite enough to prevent Hickin claiming the win. Matteo brought additional delight to MGR as he claimed the podium's 3rd step with a superb manoeuvre on Gill at Tower, and then holding the Fortec driver at bay to the chequered flag. Colin completed his morning's work with a solid 6th position.
"2014 can only be described as an outstanding year in the short history of MGR," said the team's delighted owner, Mark Godwin. "Having come close to the title in 2012 and finally achieving that last year with Chris (Middlehurst), to win again in 2014 with Pietro - in such a dominant way - is a fitting reward to the whole team. Everyone has put in so much energy and enthusiasm to make it such a successful season. Hopefully we can carry this momentum over to 2015, for our expanded entry into the European Formula Renault series and recently-announced MSA Formula 4. Looking ahead to Silverstone, we are confident that we will be in a good position to challenge for some wins again and although Tarun won't be attending, due to clashing commitments in the Indian MRF series, we hope to secure a top three finish in the championship for Matteo and a first win for Colin would be nice; as he has recently found the pace and promise that was evident at the start of the season"

The penultimate round of the Formula Renault Alps series took the competitors to the historic Mugello circuit in Tuscany (6/7 September), and once again MGR and Pietro Fittipaldi delivered an impressive performance.
The 34-strong field was again split into two groups for timed qualifying, with Pietro placed in Group B. Pietro's best lap of 1' 44.732 around the challenging 5.24 km circuit was good enough to put him 2nd in his group and 4th overall in the aggregated timings.
The first race of the double-header weekend saw Pietro go off P4 on the grid and the talented Brazilian teenager gave another good account of himself. He crossed the finishing line in 4th position, but was given the championship points for 3rd position by virtue of the fact that fellow countryman Bruno Bonifacio – who was 3rd on the line – was ineligible as he was racing on a 'wild card' entry.
"Pietro performed brilliantly against an already very strong line-up that was boosted by ten wild card entries from drivers competing in the Formula Renault Euro Cup Championship," commented MGR's Team Manager, Steve Lynch. "He got off to a good start, lapped consistently throughout the whole race and finished a fantastic 4th on the road. He's proved himself to be a genuine front-runner in such a short space of time. His progress has been quite remarkable."
Sunday's Race Two proved to be a closer and tougher affair. The weather also played its part and eventually prompted the officials to red flag the race on safety grounds as the rain increased its intensity. With the grid positions now determined by the drivers' second-fastest lap during their timed qualifying session, Fittipaldi lined his car up on the fourth row, on P8.
Despite a solid start from Pietro, Antoine Hubert was able to close in on his rear wing and he did a great job defending his position from the Frenchman. Their battle - and any further progress Fittipaldi could have made to propel him further up the order - was curtailed after just twelve laps, when the heavens opened and the race was red-flagged. The stewards declared a result, with Fittipaldi classified in 8th place.
However, with three Wild Card drivers occupying 4th, 5th and 6th places, Pietro's points haul received another welcome boost and he now sits 9th overall in the championship points table.
"He again got away from the start-line well and drove a very strong race, soaking up the pressure from Hubert behind him. Pietro was also able to respond by opening a comfortable enough cushion to make sure that he kept his position, which is another sign of his increasing maturity," commented Lynch.
Reflecting on the weekend as a whole, Steve added: "Yes, Mugello was a very strong weekend for us. We had two, hour-long test sessions on Friday and Pietro was quickly on the pace. In the morning's session, he posted a time quick enough for 7th position and the afternoon's was even closer, with only tenths (of a second) covering the top ten positions. Pietro was one of this select group and these performances signalled his pace and intent for what followed on Saturday and Sunday."

The MGR/Pietro Fittipaldi juggernaut showed no sign of slowing down as the team's young star completed another clean sweep of wins at Snetterton yesterday (31 August). Not only that, he was joined on the podium in Norfolk after round nine by Tarun Reddy and Matteo Ferrer.
There was also double joy for the Bardon outfit as reigning Protyre Formula Renault Champion Chris Middlehurst took his first win in the BRDC Formula 4 series at Brands Hatch on the same weekend.
As the two events kicked off simultaneously, it was Fittipaldi who laid down the first marker with his sixth consecutive triumph in the opening encounter at Snetterton. The young Brazilian had started from P3 on the grid and was running in that position when the two leaders were brought into the pits to serve individual penalties for jumping the start. This left Pietro out in front, with Tarun and Matteo slotting in line astern behind him. Despite coming under huge pressure from Ferrer, Reddy kept his cool and responded by opening a small margin of comfort. Sensibly, the trio avoided any unnecessary shenanigans and made it the team's first podium lock-out of the season. Fellow MGR racer Colin Noble Jnr rounded out the top ten after a battling performance from the Scot.
Over in Kent, Middlehurst put more championship points on the board with a solid 7th place in the first race at the former Grand Prix venue. With the reverse grid format, this gave Chris P2 for the following race and his first front-row start of the season.
However, after struggling to get his car cleanly off the line, Middlehurst rapidly lost ground and dropped to 6th. This proved to be something of a blessing in disguise as he then had a grandstand seat as he watched three of the front-runners collide with each other. This moved him up to 2nd and he wasted little time in wresting the lead. With his nose now in front, Chris used his considerable experience to keep Arjun Maini at bay all the way to the chequered flag.
Back in Norfolk, a perfect start saw Fittipaldi leapfrog the stalled pole-sitter and ease away from the chasing pack. With his rivals unable to match his pace and consistency, he crossed the line well clear of his nearest pursuer. Tarun enjoyed another strong showing, ultimately taking 3rd, whilst Matteo and Colin completed the race in 6th and 7th respectively.
The third and final F4 race of the weekend saw Middlehurst finish the where he had started, in 9th place. After the dramas of the earlier race, stalemate appeared to be the order of the day and with such a closely matched field, the narrow confines of Brands presented few clear-cut opportunities for overtaking.
Showing completely contrasting fortunes, Michael Claessens' eventful and frustrating weekend was compounded by an unscheduled pit-stop hampering his chances of finishing his race on a high note. Having tagged a car with his front wing in the first race, the Dutchman had to nurse his car home at the tail of the field. A crash whilst attempting a fast lap saw him DNF in the second, before the spin that prompted his pit-stop in the third race.
It took nine of the twelve laps of the last Renault race of the weekend, before Fittipaldi could afford a moment's breath after holding off the spirited challenges of Alex Gill, but as the chequered flag was readied on the penultimate lap, Gill redoubled his efforts and set up a nail-biting finish. The MGR driver edged it, completing a perfect weekend for the highly-rated teenager.
Despite giving it his all, Tarun was just unable to net his third straight trophy of the weekend and had to settle for a creditable 4th at the finish. In fact, it was only the presence of the chequered flag that resolved the race-long scrap between Noble and Ferrer as they disputed 6th place. Ultimately it was Colin who bested his team-mate on this occasion and the standard of their driving drew widespread acclaim from the crowd.
In the points standings, Pietro now leads the way, with Matteo 2nd overall. The series moves to Croft in North Yorkshire for its penultimate event on 20/21 September. MGR will again be busy, as the BRDC F4 series also heads into its home stretch with its penultimate meeting taking place at MGR's home track, Donington on the same weekend.
Reflecting on the two days of breathtaking action, MGR's Team Manager Steve Lynch said: "The team faced a challenging weekend with Renault and F4 taking place at different circuits, so to manage the situation as we did and come away with four wins is fantastic. For Pietro to have won eight consecutive races, in what is a very competitive championship, is astonishing. He had to work very hard for his success, showing great maturity, as well as fantastic pace. We are delighted that Chris was able to take his maiden F4 win at Brands Hatch after getting so close on a number of occasions this season. Overall it was a great weekend for our drivers but credit also needs to go to the mechanics for the fantastic work they put in to help achieve these results."

Monza will be forever linked with the Fittipaldi family. In 1972, Pietro's famous grandfather Emerson, won the Grand Prix at the Italian track, effectively sealing the World Championship crown at the age of 25, making him the youngest ever champion at the time. At just 17, Pietro made his debut at the great cathedral of motorsport and showed the same flair that Emerson had all those years ago.
Indeed, despite only having gained knowledge of the circuit from a brief pre-race test, Pietro was able to deliver the 3rd-fastest lap in his timed-qualifying session. However, due to the field being split into separate groups, Pietro started from P6 on the grid once the aggregate times had been added together.
Race 1 proved to be a further demonstration of the young Brazilian's talents as he carved his way up from the third row of the starting grid. However, just as he was running in 4th with a dream podium looking highly possible, gearbox gremlins struck. Unable to downshift, he dropped to an eventual 12th position.
With the damaged gear selector replaced by his hugely experienced MGR team, Fittipaldi was able to join the rest of the field for the weekend's second encounter.
It proved to be another dramatic and exciting contest for the top positions. Putting his earlier mechanical issues behind him, Pietro raced superbly to claim an eventual 5th.
"I'm very pleased overall," reflected Mark Godwin, owner of MGR Motorsport. "Naturally, we're all disappointed that we didn't achieve the true position that Pietro deserved in the first race but can be satisfied with the job he did prior to the gearbox letting him down."
Mark added: "It is testimony to Pietro's ability and strength of mind that he was also terrific in Race 2. It's important to remember that this was only his second ALPS meeting; racing against such a high level competition and to outpace far more experienced drivers, including the championship leader (Nyck De Vries) shows the talent and capacity to learn that we are fortunate to be working with."
MGR and Pietro will return to Italy and the Formula Renault 2.0 ALPS championship on 6-7 September, when the series visits the challenging Mugello track, located near Florence.

The weekend of 7/8 June was a landmark in the short history of MGR. With its Brazilian star, Pietro Fittipaldi, at the wheel, the Bardon team made its debut in the Formula Renault 2.0 ALPS series and very quickly established that they had every right to be on the high-quality grid.
The Spa Grand Prix circuit is a daunting enough prospect for the most seasoned teams and drivers, so you can only imagine what ran through young Pietro's mind as his settled into his immaculate, MGR-prepared car prior to his maiden timed qualifying session.
Having posted the 16th-fastest time in free practice, Fittipaldi wound the wick up on his 2-litre Renault-powered Tatuus and was 11th-fastest in Group A's timesheets – putting him 21st overall in the very close sessions - pleasing team boss, Mark Godwin: "Pietro did a great job considering this is a new car, new circuit and new championship to him. He didn't let that faze him and just got on with giving a good account of himself".
With Spa marking the fourth round of the championship, Pietro and the team were simply looking to gain experience and learn about the car and style of racing.
With four laps remaining in the first race, the grandson of double F1 World Champion Emerson Fittipaldi made a mistake that would cost him dearly. After carving his way from 21st on the grid to p10 in the race, Pietro found himself touching another car and spinning into the barriers hard on the Kemmel Straight.
"He tore two corners off the car, which was such a shame. Before that he had been driving superbly and just that one miscalculation in the heat of the moment put-paid to what was looking like a terrific debut. It also gave the mechanics a lot of work to do if he was to take the start of the next race."
With years of experience and success in the UK, Godwin's team set to work and were rewarded with the sight of Pietro taking up his grid position (p19) for the second race.
In return, they were richly rewarded as Fittipaldi crossed the line in front of them to conclude the first lap, having moved from 18th to 14th in the opening tour of the Ardennes circuit. At the midway point he was 13th and challenging for P12. With three laps remaining, he'd won the place - but a slightly more cautious approach as the chequered flag was readied saw him drop back to 13th at the finish.
"I think after his crash, Pietro didn't quite want to take the risks in the second race that he had in the first. In many ways, that's what you want, to complete the first learning experience and bring the car home. On reflection, I'm sure he'll think this was the right thing to do, but he'll still have expected more of himself. Don't forget, he's a multiple race-winner in the UK and consequently, he wants to win every time he races and at every circuit. We all enjoyed our first taste of ALPS racing. We were welcomed into the mix and were struck by the professionalism of everyone involved. We've committed to race at Monza (6 July) and the whole team is looking forward to it."

MGR's Pietro Fittipladi made it five wins from his last five starts with an emphatic display on the Indy circuit (26/27 July), whilst his team-mate Matteo Ferrer also continued his remarkable run of form with back-to-back runner-up finishes.
Comparisons with his famous grandfather, Emerson, are inevitable - but Pietro is emerging as every inch the star in his own right. The Brazilian teenager is now 36 points clear in the title race, with his nearest rival – the equally impressive Matteo – also being part of the MGR squad.
However, it was Ferrer who drew first blood of the weekend when he posted the fastest lap during the first qualifying session, pipping Fittipaldi to pole position by 0.14 seconds. The team's other drivers Tarun Reddy and Colin Noble were fourth and seventh-quickest respectively, showing strong pace also.

Having held his advantage through the first corner of the weekend's inaugural race, Ferrer was passed by Fittipaldi as the field streamed through Druids. With his nose in front, Pietro effectively killed off the encounter with his pace and consistency. Matteo tried his utmost to force a mistake and was rewarded with the fastest-lap, but ultimately had to settle for 2nd as his team-mate responded to every attack and maintained the gap. Unfortunately, a collision in the first few moments of the opening lap, saw Colin trail into the pits and retirement due to damage sustained in the accident.
Like Matteo, Tarun's lack of experience was belied by his speed and confidence at the wheel as he took the chequered flag in a commendable 4th place.

Making good his pole position advantage for the second race, Pietro took the lead from the outset, with Matteo slotting into P2 behind him. Colin was also among the action, after his mechanics had successfully repaired his car following his earlier crash.
At the front, the race had begun to develop into something of a carbon copy repeat of its predecessor. Ferrer harried and hustled his car along, but was unable to force an error from Fittipaldi, who in turn coolly built up a comfortable margin as the laps progressed.

In contrast to the stalemate at the head of the field, Tarun was enjoying an absorbing scrap for 5th with Patrick Dussault. The Canadian had his hands and mirrors full, fending off the MGR driver. At the finish, it was Dussault who won the race to the line by a narrow margin.
The team's delight was tempered by Colin's frustration. Still feeling the effects of his accident in Race One, Noble lost a couple of places after starting from the third row of the grid and eventually brought his car home in 8th place.
"Pietro and Matteo are enjoying an outstanding season," said MGR Team Manager Steve Lynch. "Pietro has won six times now, whilst Matteo has taken a victory and been on pole position four times. On top of that, he has posted half of the fastest laps in the championship so far."
He added: "Colin was in the wars a little but is 5th overall and will bounce back. He's a class act and just needs a bit of luck. Similarly with Tarun, he's so exciting to watch and never gives less than 100%. Like Colin, he's been on the podium this season and badly wants to get back on it. With a little bit of work, I'm sure we can get them both challenging for top three finishes."

MGR returned to form as a leading contender as the BRDC Formula 4 series reached its hallway point at Oulton Park (18-19 July).
After experiencing a frustrating time at the series' visit to Snetterton in June, the team fought back in terrific style at the Cheshire track. Middlehurst was among the pace-setters in free practice, announcing his bullish intentions in the first session with the 2nd-quickest lap.
Using his 'home advantage' the Ormskirk-based teenager delivered his best qualifying performance to date, setting the 4th-fastest time with a late push in the dying moments of the session. His team-mate, Michael Claessens took P18, believing there was more to come with his car in race trim.
And so it proved to be the case - for both MGR drivers. Middlehurst made up a place after battling with Raoul Hyman and Will Palmer. After filling Palmer's mirrors, Chris was able to force a mistake and, as the HHC driver ran wide, he pounced. Winding the wick up, Middlehurst harried the rear of Hyman's car, forcing the South African to defend. This allowed Struan Moore to close and make it a three-way scrap for 2nd.
Meanwhile Claessens had enjoyed a strong start and picked his way up to 16th, battling with Jordan Albert for 15th.
Despite throwing everything at Hyman and having to defend from Moore's advances, the stalemate was finally settled by the chequered flag with Chris delighted to take his second trophy of the season. Michael's sterling efforts yielded the hard-fought 14th and the praise of MGR Team Manager, Steve Lynch: "It was the best race yet for Michael. He got a great start and made up two places almost straight away. He came under a lot of pressure from Albert but soaked it all up and kept the more experienced driver behind him, proving his racecraft has really improved. When another driver was given a ten- penalty post-race, Michael was classified 14th."
Reflecting on Middlehurst's success, Steve said: "Naturally Chris was very happy and his podium lifted all the team. It put us back where we expect to be and where a driver of his calibre deserves to be."
Friday's perfect conditions gave way to heavy rain on Saturday, ramping up the already jangling nerves and challenge for the young grid.
In race two, having started 6th Chris gained a position to claim 5th in conditions that saw the field start behind the safety car. The rain certainly sorted the men from the boys but, with another race to follow, bravery had to be tempered with caution. Middlehurst sensibly brought his car home safely, whilst Michael recovered from an early spin to fight back finish 15th.
A chaotic third encounter saw Middlehurst keep a cool head to cross the finishing line in 2nd place, with Claessens also recording his personal best of the campaign with a superb 9th.
On the second lap, championship protagonists George Russell and Hyman touched through the fast Cascades section and were forced into retirement. Holding a watching brief moments before the incident, Middlehurst seized his opportunity, taking 2nd and the fight to race leader Moore. Chris and the chasing Will Palmer exchanged lap times, but it was the MGR man's superior pace that ultimately netted him the fastest of the race. With the gap to the leader reducing during the closing laps, a challenge for the lead looked possible but Chris simply ran out of time to launch a genuine passing manoeuvre. In a remarkable -and quite unprecedented - turn of events on the last lap, Tom Bale and Alfredo Zabalza darted into the pits rather than take the chequered flag. Zabalza had been running in 9th but his unforced error simply handed the position to an incredulous but hugely grateful Michael.
"Chris and Michael's results capped a really strong weekend for us," observed Lynch. "They proved we've moved on from Snetterton and back where we want to be. Chris is gunning for his first F4 win now and having broken into the top ten, Michael wants more. Everyone in the team has raised their personal bar and together we're excited about the second half of the season."

MGR went into the halfway point of the BRDC Formula 4 Championship at the Snetterton 300 (21/22 June) circuit buoyed by Chris Middlehurst's podium the month before and positive lap times achieved during pre-race testing at the historic Norfolk track.
However, the practice sessions held prior to qualifying soon revealed a number of issues; most notably that all three drivers' previous pace had all but disappeared. Analysis of the earlier testing data confirmed that the track conditions were now very different – this was due to GT cars testing in the intervening days and laying down different rubber compounds as a consequence. In addition, a mystery set-up issue remained unresolved up until timed-qualifying.
With little time to the adjustments made to their cars, MGR's trio of Chris Middlehurst, David Wagner and Michael Claessens were a little compromised. However, Middlehurst was able to record the 9th-fastest time, showing the potential of the cars as the field prepared for Saturday's opening race.
"To be honest, Michael was where we expected him to be in Qualifying, given his lack of experience," said Team Manager, Steve Lynch. "In the race he did really well and was making excellent progress until he span whilst pushing a little too hard."
With his subsequent DNF chalked down to experience, it was nonetheless a positive performance - as were those of Chris and David. The latter made ground to cross the finishing line in 12th place, having started from P18, whilst reigning Protyre Formula Renault champion Middlehurst bagged 10th.
With the drivers' finishing positions in Race One determining their starting place for the following encounter, the team looked forward to some exciting racing - but frustration rather than champagne followed. Steve explains: "There was a technical issue on the grid with Chris's car right on the start-line. The marshals pushed his car off the circuit on the opposite side of the pits, so we couldn't bring him in to work on the problem and get him out on track. So he was an instant retirement before the race had got underway. David had got up to 6th, lost a place and was then hit from behind. He span off the circuit and the car beached itself, so he had to retire. On the other hand, Michael made good progress to claim his best finish of the season so far, with 12th."
The weekend's third and final race saw the grid positions decided by the competitors' fastest laps in Race One, but Chris gave himself a major task when he was tipped into a spin in the opening exchanges. Although he was able to re-start in last place, he needed to pit so that his mechanics could assess the damage sustained to the front of his car. Given the all clear, despite missing sections of bodywork, he fought back to an eventual 15th position by the chequered flag.
David missed out on a top ten finish after settling for 11th whilst Michael was unable to repeat his heroics from Race Two and completed his day in 18th.
"After coming 2nd at Brands Hatch with Chris, we expected to be up there again - but it wasn't to be. It wasn't the weekend we hoped for," Steve said. "However, we learned valuable things about the car and how to adjust it more finely to suit the drivers' individual styles and needs. On that basis we're looking forward to Oulton Park
(18/19 July)
."

Pietro Fittipaldi opened a strong lead in the Protyre Formula Renault Championship following a trio of victories at Donington Park (31 May/1 June).
The Camberley-based Brazilian star now has a 25-point cushion over his nearest rivals following a truly impressive display at MGR's home circuit. He was joined on the podium by his team-mates, Tarun Reddy (who finished 3rd in the Championship's fifth round) and Colin Noble Jnr (after his runner-up finish in Round Six). Unfortunately, the team's Matteo Ferrer experienced problems at the Leicestershire track and lost a little ground in the title race, albeit that he is now 3rd overall.
Round Five saw Pietro make the perfect start from P2, to lead into the first corner, Redgate. With clear air ahead of him, the grandson of the legendary Emerson Fittipaldi began to edge away, putting himself three seconds clear of his pursuers.
With Pietro out on his own, the crowd's focus turned to 16-year-old Tarun. During the third lap, the Indian teenager left his braking late on the run into Redgate to snatch 3rd from the Canadian driver, Patrick Dussault. Matteo followed his team-mate through and instantly began to harry the rear of Reddy's car.

The trio became a sextet, as more cars joined the Reddy, Ferrer and Dussault scrap.

As the order shuffled around, only Tarun remained in a constant position – 3rd. Noble Jnr had fought his way into 4th, with Ferrer down to 7th and nursing a damaged front wing. The disrupted aerodynamics caused by this cost Matteo more speed and stability and he eventually finished in 10th place.
Tarun's vigorous defence of his maiden podium was indeed rewarded with his first trophy in the series, as he clung on to his 3rd, while Colin crossed the line in 5th.

For the following race, Noble Jnr would start from the outside of the front row, following his best ever qualifying performance. He capitalised on a mistake by the pole-sitter, who fluffed his launch off the line, to lead from Fittipaldi. However, as the pair plunged through the Craner Curves, Pietro lined his car up for a successful pass at the Old Hairpin on lap 4.

The prospect of an MGR 1-2- 3 finish had looked on the cards until midway through the race, when Ferrer was pushed to 4th at Redgate. The Italian tried every which way to retake the place – even setting the fastest lap – but was not to be rewarded and eventually had to accept 4th. Fittipaldi and Noble Jnr maintained their 1st and 2nd positions all the way to the chequered flag.

The day before (31 May), Pietro had opened his account with his second win of the 2014 season.
His MGR-run car rocketed off the start line to get Round 4 underway and as he crossed the start/finish line to complete the opening tour, he was already over a second clear of the chasing pack.

The gap increased to four seconds as he stormed to the finish - with two additional championship points for the fastest lap, Pietro managed to take the Championship lead from fellow MGR driver Matteo Ferrer and he capped a terrific performance with a new lap record - 1m07.765 seconds (105.13mph) - for the championship around Donington's National Circuit.

Perhaps fired-up by the sight of Fittipaldi's car disappearing into the distance, Noble Jnr fought desperately to take 2nd place. However, he also had to attack and defend as he too came under scrutiny for the remaining podium positions. When he was finally demoted to 4th, he quickly re-gathered himself and monstered the rear of the car ahead but found the door firmly shut.
Championship leader, Matteo netted 5th spot, salvaging valuable points after starting lower down the grid.

Tarun maintained his promising early season form with a creditable 7th, laying down the foundations of what was to come the following day.
With all four drivers now in the top six of the title race, MGR's delighted team owner Mark Godwin said: "I've said it before and I'll say it again, Pietro has massive potential. Each race presented itself with a fresh set of challenges and he met each of them head on and won in style. Tarun is also blossoming into an exciting talent, as is Colin. The desire and hunger from all four drivers was evident this weekend. All of them are learning every time they get in their cars and none more so than Matteo. However, he isn't letting his lack of experience hinder his progress and his fighting spirit is great to watch."
MGR Team Manager Steve Lynch says the team will now look to capitalise on these excellent results, as it bids to put all four of its exciting talents in the frame for the championship: "Our results at Rockingham and Donington show that all four drivers are capable of finishing on the podium. We will continue to work hard leading up to the next round at Brands Hatch and will be looking for further strong results from Colin and Tarun as they mount a challenge for the championship alongside Pietro an
d Matteo."

25TH JUNE 2014
Middlehurst puts more points on the board as F4 championship hots up
Consistency pays off for Chris, whilst David Wagner endures frustrating weekend
A sun-drenched Brands Hatch played host to the second round of the BRDC F4 series (17/18 May) and as the series sparked into life, MGR's Chris Middlehurst was among the front-running protagonists.
A dramatic, red flag-interrupted qualifying saw Middlehurst and his team-mate, David Wagner post the 5th and 10th-fastest lap times in the available five minutes of the session.
In the opening moments of the first race, Middlehurst lost ground – dropping to 7th – whilst Wagner tangled with SWR's Diego Borrelli on the following tour. By mid-race, it was all rather stagnant as Chris held his position comfortably with David now 15th, but relatively unscathed after his earlier coming together.
In the dying moments, Wagner was lifted up two places to 13th as two cars collided whilst disputing 8th position.
Chris would make headlines in the weekend's second race, as he crossed the line in the Championship's closest ever finish.
He was pipped to the win by just 0.044s, following a race-long battle with Brazil's Gustavo Lima - the closest ever F4 race finish.
At the start, Lima had led the field away from pole position, with Middlehurst moving into 2nd as the cars streamed into Paddock Hill Bend for the first time. Thus began a game of cat-and-mouse for the entire 14 laps, with no more than 0.4 seconds separating the leading pair.
Unable to find a gap, Chris waited patiently and concentrated on filling the Brazilian's wing mirrors. On the last lap, he made his move at Clearways, aiming to win the sprint out of the last corner and down to the waiting chequered flag. He was alongside as they both raced to the line, but Lima had enough in hand to snatch the win from the MGR man.
Speaking to reporters afterwards, Chris said: "It was the last lap and I thought I'd try and move round the outside. I thought there was one lap left, but there wasn't. I tried to just get in his tow as much as I could and pull out but it wasn't quite enough, but I'm happy with second place and hopefully we'll be in a good starting position for the third race as well. It's a great opportunity for most drivers as they don't use the Grand Prix circuit that often so I'm really thrilled to drive that and to be successful. Second place is great."
In stark contrast to Middlehurst's joy at claiming his first F4 podium, David was a frustrated spectator. The Scotsman was forced onto the sidelines on lap 7, after contact with a rival saw him spin off the circuit and beach his car in the gravel trap.
A second podium of the weekend looked to be a distinct possibility as Chris once again fought for silverware, this time in the third, and final, encounter at the legendary Kent circuit. He was the filling in a three-car sandwich that entertained the huge BTCC crowd.
Raoul Hyman was busily defending his 3rd place from Arjun Maini, Chris and Jordan Albert, with the quartet covered by just 0.8 seconds as they raced towards the flag.
Although he was able to finish the race and rack up further points, thanks to finishing 13th, it was another frustrating experience for David who would normally expect to be much higher in the finishing order, as MGR owner Mark Godwin observed: "Brands is always a difficult place to go racing, due its narrow confines. It's very easy to get bottled up behind another driver, as there are so few clear passing opportunities. It is also a venue where you can quite easily become the victim of other people's mistakes, as we saw with David. There's a two month gap between now and the next round at Snetterton (21/22 June), but I fully expect he'll bounce back in style when w
e get to Norfolk."

25TH JUNE 2014
4th for Middlehurst as BRDC F4 gets underway
MGR Motorsport's drivers feature in dramatic opening weekend
Picking up where it left off last year, the BRDC Formula 4 Championship looks to be every inch as competitive as it was in 2013.
Chris Middlehurst secured both MGR's and his own best result of the weekend (26/27 April), with a fine 4th in the third race. His team-mate, David Wagner, netted two consecutive top ten finishes, but was penalised after the race and demoted to 15th. Sportscar race-winner Michael Claessens began his acclimatisation to slicks-and-wings racing with solid finishes in his maiden weekend with the team.
Reigning Protyre Formula Renault Champion Middlehurst delivered the star turn, as he charged from 15th on the grid on his way to 4th at the chequered flag. He was up 9th as he completed the opening lap and in the following two he had made further ground and was now in 6th. With his car handling beautifully, the MGR driver made further progress, passing two more cars in the space of one lap to take 4th. However, with the leading trio able to sprint clear in the race's opening stages, Chris was unable to reel them in and fight for a podium place. In the latter stages, he came under threat from behind and was forced to resist a strong challenge for his place.
Wagner was given a retrospective 10-second time penalty after colliding with another car. The driver and team immediately appealed the decision, but were sadly unsuccessful.
The previous race had also borne witness to a terrific drive from Chris. With light rain falling, the officials had declared the race 'wet,' giving the field the opportunity to change to slick tyres. However, every car slithered to its starting opposition on untreaded rubber and it was Middlehurst who seized the moment. Despite starting from 20th position, he tore up the order and eventually crossed the line 7th, two places ahead of David.
Michael recorded his best result of the weekend with 17th, as he put more valuable single-seater mileage under his belt.
Using all his experience in the curtain-raising race of the year, Chris was making rapid progress from his 6th row grid position. By the second lap he was 8th and challenging for 7th. As his mechanics waited on the pit straight to show him his lap board, the distinctive black and orange car failed to show at the beginning of lap four.
With Chris side-lined by a crash with a slow-moving driver trying to block his passing manoeuvre, it fell to David to show his pass mastery. Starting 20th, after a troubled timed qualifying session, the Scot was flying and up to 6th. He was able to take one more place, rounding out the top ten. Michael enjoyed a sensible debut on the hallowed Grand Prix track, bringing his car home in 20th.
"Our overall pace and form was good," reflected Team Manager Steve Lynch. "Michael experienced his first qualifying and from there drove sensibly to keep out of trouble and learn more about the car, the circuit and single-seater racing. After his off in Race One, the lads did really well to fix Chris' car in time for the second race. His performances were quite pleasing and he showed both his potential and that of the car. The same could be said of David. He was penalised unfortunately for his driving standards in Race Three which slightly marred an otherwise encouraging opening weekend for him. It seems the old phrase 'If you ain't rubbin', you ain't racin'" holds little water with the officials…"

The Formula Renault 2.0 Northern European Cup (NEC) roared into life at one of the great temples of world motorsport last weekend (12/13 April), with MGR enjoying its maiden foray in the prestigious championship with a strong performance from its Austrian driver, Stefan Riener.
Underlining its reputation as one of Europe's single-seater series, 32 drivers signed on at Monza to contest the opening races of this year's competition, with debutants MGR taking on 13 other - and far more - experienced teams.
Despite a lack of pre-race seat time in the MGR-run Renault-powered Tatuus, due to exams, 18-year old Stefan stunned paddock regulars with the tenth-fastest lap in timed qualifying. His chief mechanic, Peter Sieber – who has guided the early careers of Michael Schumacher, Heinz Harald Frentzen and Nico Rosberg – hailed his young protégé: "Tenth place in his first qualifying session, and against over thirty other drivers, was a great performance! Stefan had shown flashes of his talent during some pre-season tests, but confirmed it against a top-class field at the first time of asking."
MGR team owner Mark Godwin agreed: "He not only has huge natural speed, but also the necessary intelligence to turn it into results. He is that rare thing, a young driver who listens and then executes a race strategy to the letter."
Riener made an excellent getaway from the line at the start of the first race and was soon challenging for 5th place. However, a ten cent part failed in the gearbox, leaving him without transmission.
"We were really encouraged by what we saw," said Godwin afterwards. "Stefan showed he could overtake and before his clutch problem arose, he was matching the times of the race leader."
More frustration followed when, during Sunday's race, Riener's chance of a strong finish was stymied by a coming together with another driver as he charged up the order.
"24th place doesn't reflect what he was capable of, or deserved," Mark reflected. "Given that he was running in traffic before and after his spin, Stefan was among the quickest drivers. It's frustrating that a small, inexpensive part denied him a good result in race one and, perhaps, a little inexperience in the second. We're the smallest team in the paddock, but as Peter said there were a lot of big names behind us."

Maiden victories for Matteo Ferrer and Pietro Fittipaldi gave MGR a terrific start to the new season
Rockingham International hosted the opening three rounds (5/6 April) of the 2014 Protyre Formula Renault Championship with MGR fielding sophomore drivers Fittipaldi (the 17-year-old grandson of 1972 and 1974 F1 World Champion Emerson Fittipaldi) and exciting prospect, Italy's Matteo Ferrer and series newcomers (2013 Radical SR1 Cup Champion) Colin Noble Jnr and India's Tarun Reddy.
In qualifying, it was Matteo who dialled into the Northamptonshire track the best and he duly took pole position for the weekend's three races. However, it was Pietro who claimed the honour in Saturday's encounter, taking his first Formula Renault victory.

A mistake under braking for the Deene Hairpin had shuffled Matteo from 1st to 5th, with his fast-starting team-mate seizing the initiative. Once ahead, he set about building an unassailable lead and duly crossed the finishing line some five seconds clear of his nearest pursuer.
"I'm really happy, the team worked really well throughout all of the pre-season testing and I think we've got the car down pretty good", Pietro told waiting reporters in the pitlane. "We were able to get the lead on the first lap, got a good gap to the guy in second and just stayed there. It's kind of hard to pass here so once you get the lead, you have to stay consistent – it's great to get the win."

Although he had lost ground in the opening phase of the race, Matteo gathered himself together and began to chip his way back up the order and his efforts were rewarded with a career-best third at the finish.

"To come here and get pole position is completely new territory for me," Matteo explained. "I was just focused on getting off the line well and doing everything step by step, but I focused too hard on Pietro into the first corner and missed my braking. I was very determined to make up for that and at least finish on the podium, which I did. We have two more opportunities tomorrow," he added.

Colin Noble Jnr opened his account with a terrific 4th place, while Tarun Reddy claimed a fine 6th on his MGR debut.

Ferrer proved that he is a fast-learner with a lights-to-flag triumph in Sunday's opening race of the day. Fittipaldi made him work hard for the win and the young pair must have aged team boss Mark Godwin considerably as they fought wheel-to-wheel for supremacy going into the very first corner. On this occasion the Italian held his nerve before easing away to a dominant first success.

Albeit this was his first trip onto the top step of the podium, Matteo spoke like a seasoned pro as he described the action: "I didn't make a good start, but managed to somehow stay in the lead and then just kept Pietro back and managed to pull away. From then on it was really easy sailing as he was under pressure. It was basically a test run. When everything is good, your tyres and the car, it all falls into place and it's an easy win. I'm really happy."

Behind Ferer, a frantic tussle had developed amongst the chasing pack. Fittipaldi had been elbowed down to 4th, with Noble in close attendance. In fact, Colin got too close for comfort and lost his front wing as they scrapped for track position – dropping to 9th. Tarun missed out on a second top ten finish but acquitted himself well with a fighting 12th.
Ferrer got round three underway with another strong start from pole, with Fittipaldi slotting into 2nd.
With the field bunched up so closely, Matteo was forced to adopt a defensive line into Tarzan and this bottled-up his team-mate, allowing former MGR driver Alex Gill to wriggle past the Brazilian ace at the Brook Chicane.

Matteo came under intense pressure, resisting superbly but eventually succumbed on lap seven. A brief Safety Car period gave the field a breather and suitably galvanised, Ferrer set the fastest lap as he mounted a fresh challenge to take back the lead. He eventually settled for the runner-up spot, but took the championship lead.

Pietro's spirited challenge for the remaining podium place was ultimately thwarted and he had to settle for 4th but he too is in a fine position in the points table, with 3rd overall, at this early stage. Tarun led home Colin to make it all four MGR cars well inside the top ten on the road and in the championship.
Summing up the weekend, team owner Mark Godwin said: "[insert quote]".

Rounds four, five and six take place at Donington Park in Leicestershire - MGR's home circuit - over the weekend 31st May/1st June.

Provisional 2014 Protyre Formula Renault Championship Driver Standings (after Rd3):
1st Matteo Ferrer, 89pts; 3rd Pietro Fittipaldi, 76pts; 6th Colin Noble Jnr, 50pts; 7th Tarun Reddy, 50pts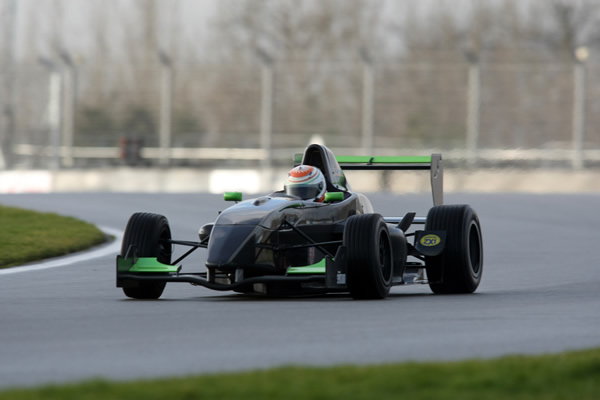 MGR Motorsport ran F4 cars for Chris Middlehurst and David Wagner and Formula Renaults for Tarun Reddy and Colin Noble at the Donington Park test session on Tuesday 18th February.
The MGR cars ran faultlessly throughout and proved to be the quickest single seaters on the changeable track with their drivers dipping into late 67 second laps. The team now moves to Rockingham on Thursday before heading to Spain for some warm weather testing at the Gaudix track next week.
MGR test seats are still available in F4. Please call Mark on +44 (0)7889 881430 for details.

The BRDC F4 series remains as close-fought and tense as it did at the start of the season. On its return to Snetterton for rounds nineteen, twenty and twenty one (7/8 September), MGR's drivers delivered a string of points-scoring top ten finishes, learned fresh lessons and welcomed back Matt Mason.
On his return to the MGR family, former Formula Renault star Matt had looked set to mark his BRDC F4 debut with a terrific sixth place in the opening race of the weekend. This would have meant Matt starting race two in third position, however, a post-race enquiry saw the 21-year old disqualified for a manoeuvre on the run to the finishing line. This boosted his team-mate, Diego Menchaca from tenth to ninth, whilst fellow MGR star Pietro Fittipaldi inherited 10th. "There was a lot of confusion caused at the end of race 1, as Morris suddenly slowed through Coram on the last lap from a solid fifth, eventually finishing eighth at the chequered flag. Both Matt and Gustavo Lima were equally confused and both slowed at the line, however Matt's manoeuvre was deemed to be dangerous enough to warrant exclusion from the results.
In Race Two, Diego and Pietro took seventh and eighth ahead of James Greenway, who operates out of the MGR awning as a privateer. To compound Matt's frustrating start to his F4 career, he was forced into retirement by a sudden loss of power.
Team owner Mark Godwin explains: "Matt ran wide at Hamilton launching the car high into the air and the resultant force damaged the fuel pump and nosebox mountings which ultimately led to his retirement. He had initially started well from last place on the grid and was already up to twelfth, although his remit was only to set a good lap time to qualify well for Race Three."
Mason was able to demonstrate his real potential in Race Three with a cracking drive from the back of the grid, picking his way to an eventual eleventh, a shade under two tenths of a second off the rear wing of Menchaca. Fittipaldi and Greenway ran in similarly close order to cross the finishing in thirteenth and fourteenth.
Summing up his team's fortunes, Mark said: "Snetterton was a tough weekend for the team, although the mood was much more upbeat after Matt was announced as Jake Dalton's replacement. The development of the car took some real strides forward from pre-race testing onwards and despite the end results; the feeling amongst all the drivers is that the team is getting back on track. Although Pietro will miss Donington in favour of completing his Formula Renault campaign, both Matt and Diego feel another podium finish is on the cards at Donington. Pietro is set to make a return to the category during the winter series in November".

James Greenway claimed his first BRDC Formula 4 podium with a terrific drive at Silverstone (18 August). Jake Dalton's drive from the back of the grid to 6th in the same race also proved a highlight.
Since transferring to single-seaters at the beginning of the season, the Yorkshireman has quietly made progress in his rookie season and at Silverstone he showed just how far he has developed his abilities.
Unfortunately, none of the MGR drivers was quite able to transfer their testing pace from Donington earlier in the week to the world-famous Northamptonshire Grand Prix circuit during qualifying, but it was Greenway who was all smiles after the weekend's opening race on Saturday.
A terrific drive netted 5th place at the chequered flag, his best finish of the year. It had been a frantic race, in which three drivers received penalties for a variety of rule infringements - but James neatly picked his way up the order, having started from P13.
In stark contrast to his delight was Jake Dalton's despair after being forced to retire with suspension damage, following a coming together with James on the opening lap.
Pietro Fittipaldi notched up another top ten finish - with 10th place - whilst Diego Menchaca crossed the line in 15th position, having had to pit early on to clear his car's radiators of debris.
With his car repaired in double-quick time, Jake was able to drive his car onto the grid for race two, albeit that he would start down in 17th place. The championship contender rocketed up the order, passing four cars on lap seven, to take the chequered flag in 6th.
James enjoyed his best race of the year, scrapping hard with South Africa's Raoul Hyman during the race's opening half before going on to claim 3rd position and set the fastest lap: "That was a great race," he said afterwards. "The start was crucial and I managed to get a good start from the grid and held the position. Entering the complex on the first lap I had a bit of a coming together with Seb Morris and that allowed Jack Barlow to get through. But then it was all about pushing up to Raoul Hyman, which I managed to do, and I passed him at Copse half way through the race and then it was about maintaining the gap behind, while also pushing Jack to make a mistake as well, but he held firm! Third place at Silverstone is a special moment for me."

Jake's crucial 6th place kept him firmly in the title race, despite his earlier DNF yielding zero points. Diego and Pietro brought their cars home in line astern, taking 11th and 12th respectively.
Mark Godwin expressed his delight at Greenway's success and Dalton's sterling recovery drive in the second race: "James has had a fantastic weekend and is really beginning to show his true potential. Jake was unlucky to tangle with James in Race One, the first lap was very fraught and Jake was compromised a little as he left the start, with a faulty water temperature sensor. This caused the early rev limit to cut in and Jake lost ground and was under intense pressure to defend his position. However in Race Two he made amends and drove an incredible race to finish 6th overall. However, the subsequent tyre degradation trying to achieve this result meant there was no performance left in the tyre for the following race."
Sadly, a fairy tale ending to the weekend was not to be for MGR's drivers. Again, Diego and Pietro delivered solid drives to finish in 9th and 10th but James and Jake saw a reversal of fortune, ending their day in 14th and 15th.

MGR Motorsport are delighted to announce that Matt Mason will re-join the team to make his BRDC Formula 4 debut at Snetterton this weekend. Matt joined MGR in 2011 when he made his car racing debut in BARC Formula Renault. During his two years with MGR Motorsport he secured maiden pole positions and race wins for the team and himself.
Matt hopes to add yet again to the team's success when he straps himself into the #15 MSV F4-013 for the penultimate meeting of the BRDC Formula 4 Championship's inaugural season.
At 21 years of age, Matt had opted to put his racing career on hold in 2013 after taking the runner up position to Matt Parry in the 2012 Intersteps Championship. He has been focussing on his financial services career in the City of London for the year but the draw of racing and the chance to drive for MGR Motorsport proved impossible to resist.
At Snetterton Matt will be joined by the team's two South American drivers. The #13 Telmex sponsored car is driven by the 18 year old Mexican driver, Diego Manchaca. The #12 Embratel and Claro backed machine is raced by Pietro Fittipaldi, the 17 year old grandson of former World Champion, Emerson Fittipaldi. All three drivers are hoping to add to MGRs impressive tally of 5 poles, 7 podiums and 3 race victories in Formula 4 so far.
MGR Motorsport would like to thank Jake Dalton for his efforts with the team since early 2012, and wish him every success in his future career
Quote from Matt Mason:
"I am delighted to be returning to racing with MGR Motorsport. It feels like coming home. I am very grateful to Mark and the team for this opportunity and look forward to trying the Formula 4 car at Snetterton."
Quote from Mark Godwin, MGR Team Principal.
"I am absolutely delighted that Matt is re-joining the team. Matt has been a key part of the MGR family from day one, having brought us our first pole position and our maiden win for which we will always be grateful. "

MGR Motorsport netted its maiden single-seater championship at Rockingham (11 August), when Chris Middlehurst sealed the 2013 Protyre Formula Renault title with 2nd place at the Northamptonshire track.
It was Middlehurst's 13th podium of the season, ensuring that the MGR driver secured overall victory with one round remaining and emphasising his dominance of the series.
"Chris has been the most outstanding driver of the season," said team owner Mark Godwin. "Six wins, four pole positions and five fastest race laps are testimony to this. After narrowly missing out on two titles with Matt Mason (Intersteps) and Josh Webster (BARC Renault) last year, I am delighted that Chris has finally delivered our first championship victory. I'm sure it will be the first of many and we are already preparing to wrestle back the lead of the F4 championship, this coming weekend at Silverstone."
He added: "It's an amazing feeling and all the more sweet we've done it here, at Rockingham. Last year we had an awful weekend at Rockingham with Josh losing so many points through no fault of his own. It really couldn't have been any worse, so we wanted to do it here – it's absolutely fantastic to have won the championship so early."
Chris praised MGR for its role in his success: "The car has been great everywhere really this year, the team has been fantastic, and it's been down to me to seal the deal. To win championships you don't necessarily have to win races, just score points and keep on the podium as much as you can and that's what we've done."
The St Helens-based teenager had edged closer to the crown with 2nd place in the weekend's opening race (round 12 on Saturday 10 August) and 3rd in Sunday's opening encounter. His triumph was assured in the third and final race, when his nearest rival, Weiron Tan, retired with engine gremlins and Chris was able to bring his car home in 2nd place.
Behind him in 3rd, was his team-mate, Jorge Cevallos - the Telmex-backed youngster having powered up the order from 11th place at the start. Cevallos had deftly avoided a crash during the opening lap and was running 4th when Tan stopped. He told reporters afterwards: "In the first two races I couldn't stay out of trouble but finally, in the last race, I was able to keep my nose clean and take third place from 11th – I'm happy with that. We started this year so strong, then had some problems which we didn't really figure out until this weekend. Congratulations to the team on winning the championship!"
Matteo Ferrer delivered his best performance of the season, taking an eventual 5th and setting the fastest lap of the race. It was the perfect way to bounce back from his DNF in the second race. "Matteo had struggled a little during the previous race at Croft, a knock on effect of the huge accident he had at Thruxton, but he is well and truly back in the groove and improving all the time. I still believe he could spring a late surprise this year, as a podium finish is looking more and more realistic and it would be a fantastic achievement for a driver with such little experience"
MGR's, Tom Oliphant, broke into the championship top ten, following strong showings throughout the weekend. "This has been Tom's most consistent weekend so far this year and he is edging ever closer to the pace. Recent testing with Tom has proved very fruitful and he feels a lot more confident with the car, so I think it's realistic to aim for a top six finish at Silverstone."

Jake Dalton returned to the top of the BRDC F4 Championship points table with a series of gritty drives at his home track, Oulton Park, in rounds 10, 11 and 12 (6 July).
The MGR star had previously lost his points advantage during a troubled weekend at Snetterton (15/16 June), but was in feisty mood at the Cheshire venue - regarded as one of Britain's most picturesque and demanding circuits.
Unfortunately, as timed qualifying got underway, Dalton was held back in the paddock by officials believing he hadn't signed-on to contest the meeting. Thankfully the team was able to resolve the matter, but not before Jake had missed vital minutes of the session. Consequently, he was only able to set the 11th-fastest time, with Diego Menchaca two places ahead on the grid by virtue of his lap time.
With the stunning, former country house estate bathed in glorious sunshine, the track temperature soared as the MGR pair headed to the grid for the opening race. Dalton rocketed off the start line and managed to pass his team mate on the exit of Old Hall corner. He was soon on the gearbox of the car ahead and found a way past at Knickerbrook chicane. Later in the race, a crash further up the order handed him 7th, which he held to the chequered flag. Diego finished where started, in 9th, completing a solid performance for the exciting Mexican prospect.
With the top eight finishing positions reversed for the start of the second race, Jake went from P2. He held his position as the 21-car field streamed into Old Hall for the first time. He harried the race-leader for the first half of the race but, with the hot temperatures taking their toll on his car's tyres, Jake sensibly opted to go for valuable championship points and crossed the finishing line in 2nd. "I was happy with second. The car felt much better but overtaking is so hard around here and I pushed too hard, so my tyres had gone by the end of the race", he told reporters afterwards.
Diego also delivered another professional, mature drive which yielded a creditable 8th place at the finish.
With their fastest lap times deciding where they started from, Jake was allocated P9 and Diego P12. The heat had caused tyre degradation to both MGR drivers' tyres, prompting set-up changes ahead of the third, and final, race of the day.
Both experienced further frustration during a fraught encounter. Feeling as though the car was fighting him, Dalton hauled it to 9th, whilst Diego slipped down the order to 17th.
It was a bitter-sweet meeting for MGR, as team owner mark Godwin pointed out: "We left Oulton Park with Jake back on top of the championship, which was clearly a positive after such a disappointing qualifying session. Jake was very rattled after being held back in the pit-lane whilst qualifying was taking place and was denied enough track time to secure a decent lap, Diego had a much better session with a solid performance and drove well throughout the weekend. I think our car was a little inconsistent this weekend, which was most evident in the last race, as Jake really struggled to keep the car on track. Subsequent investigation, found some problems with the suspension but the team is confident of a much improved performance at the next race meeting"

Chris Middlehurst's dominance of the Protyre Formula Renault Championship was finally brought to an end at Croft in North Yorkshire (6/7 July) - but the MGR driver remains firmly on track to lift the crown at Rockingham (10/11 August).

Chris left the circuit having seen his lead reduced to 'just' 98 points, indicating his overall supremacy this season, but not before he had claimed two further podiums.
As Saturday's opening race got underway, Chris ran third as the field streamed into Clervaux. A spinner brought out the safety car, bunching the field up again and at the resumption of racing he had a box seat watching the scrap for the lead. Deciding that 3rd - and the valuable haul of points that went with it - was better than going for an unnecessary victory, Chris settled for completing the podium, rather than topping it.
His team-mate, the popular Mexican Jorge Cevallos crossed the line in 6th, making it a positive start to the weekend for Mark Godwin's team.
Indeed it was Jorge's turn to star on Sunday, as he held 3rd in the opening stages of Sunday's round ten. As it had been the previous day, the Safety Car was deployed due a collision between two cars at Hawthorn. The race resumed on lap four with Cevallos manfully resisting the attentions of the two drivers behind him.
After opting to save the best tyres for the last race of the weekend, Chris initially ran in 5th for the majority of the race, before dropping to 6th at the end and ultimately ceded his 100% podium record.
An incident-packed second race of the day handed Middlehurst a rare lifeline. With cars taking to the pits or crashing, he inherited 2nd after running in a somewhat lonely 4th. With little chance of reeling in the eventual winner, a relieved Chris edged closer to the title: "I'm pretty chuffed with second, it was an interesting race to say the least – I think Weiron Tan's been pretty unmatchable all weekend. Two podiums out of three isn't too bad, we've not been the strongest this weekend as well, so I think that's a good result in this situation."
Cevallos took the chequered flag in a fine 4th place, whilst Tom Oliphant, racing on his home circuit claimed his best finish of the season with 7th.
Rockingham in Northamptonshire will host the next three rounds of Protyre Formula Renault action, the penultimate event of the 2013 season, over the weekend 10th/11th August.

Although his young charge is still very much on an upward learning curve, MGR team principal Mark Godwin had predicted at the beginning of the BRDC F4 Championship that Pietro Fittipaldi would win in the second half of the season. At Brands Hatch last weekend (27/28 July), Godwin's prophesy came true in superb style.
Pietro, grandson of double Formula One World Champion Emerson Fittipaldi, claimed his maiden single-seater triumph in the opening race at the Kent circuit.
Having enjoyed his best qualifying performance to put himself on P2 of the grid, the 17-year old had spent much of the race in 3rd position, before making a calculated move for 2nd. On the last lap, the original leader Jake Hughes slowed a little on the last lap and Pietro pounced to snatch the lead and ultimately, the win.
"When I saw the chequered flag I couldn't believe I was the first one to cross it, it was awesome!", Pietro told the waiting journalists. "I just kept my cool on track and was really consistent all the way around and I can't believe I've got this win in my first year. I thought it was going to be a learning process - which it still is. I just can't put this into words!"
Aware that his famous relative had also knotched up his first victory in Europe at the same circuit, back in 1969, Pietro added: "That is so cool. I'm following in his footsteps in a way, so it's really nice. It's going to be tough now starting from eighth on the grid for race two, but I'm looking to keep it on track and keep working on my consistency which was pretty good during this race. If I can get a top five finish I can hopefully get a good lap for the third race."
Erstwhile championship leader Jake Dalton retained his points advantage for the team, thanks to his 6th place finish. Diego Menchaca made progress from his starting grid slot, moving up from 16th to 13th at the chequered flag.
In the second race, Jake's rivalry for the title with namesake Jake Hughes was played out on the track, as the pair disputed 4th. On this occasion Hughes edged it, taking the chequered flag just 0.2s ahead of the MGR driver.
After netting a career best 3rd in qualifying and a stunning getaway at the start of Race 3, Diego Menchaca harried Dalton into Paddock Hill Bend. Diego's pressure paid off and he passed Jake at Surtees on the following tour. Jake initially tried to fight back and mistakenly took to the grass. As a result, subsequent problems with over-heating sent the engine in to "limp home mode" and the Englishman lost further ground during the race. He eventually brought his car home in 15th position, salvaging six points. An ecstatic Diego meanwhile went on to secure his best ever finish in the UK so far, with a solid 2nd position.
Pietro also ended his weekend on a high, by setting the race's fastest lap on his way to 14th. An earlier dispute over track position saw Pietro lose an initial start position of 6th, but netting the fastest lap demonstrated that Pietro's first ever win on UK soil was by no means a fluke.
Reflecting on the weekend, team owner Mark Godwin said: "After recent testing and development with the car, Brands Hatch looked like it could be a strong weekend for the whole team. Both Diego and Pietro certainly didn't disappoint, but Jake really suffered for some reason in qualifying and this hurt him for the rest of the weekend."
He added: "It seems clear that the more we improve the car for Pietro and Diego the worse it gets for Jake and I suspect this is largely down to his driving style. However we will continue with the development programme and hopefully get Jake back to the front where he belongs. I feel confident now that we will see Diego and Pietro consistently running at the front and perhaps Diego's first win is not too far away either!"

What should have been a weekend of celebration, ended in frustration for MGR Motorsport after the Bardon squad was hit by dramatic mechanical failures and shock exclusions at Snetterton (15/16 June).
It had all begun and boded so well, when in a rain-soaked timed qualifying session, Jake Dalton snatched pole position for the weekend's opening race. But sadly, his chances of extending his championship lead ended on the start-lin, when his car suffered sudden driveshaft failure.
With Dalton reduced to the role of a spectator, it fell to Diego Menchaca and Pietro Fittipaldi to uphold MGR's honour and both stepped up admirably.
Mexican star, Diego, enjoyed a superb race as he charged from 11th place to 5th at the chequered flag. Fittipaldi, recreating the formative stages of his grandfather Emerson's early career at the Norfolk track, also romped up the order. A stunning move around the outside of Riches corner netted his eventual 6th.
Both drivers received the plaudits of the team and their fellow competitors only to be left shocked and disappointed by post-race scrutineering. Menchaca's car was deemed underweight. Much later, Fittipaldi was also penalised after confusion reigned over the legality of his car's suspension.
"The outcome of the first race at Snetterton was hugely disappointing for the team," said MGR Team Principal, Mark Godwin. "Having worked hard to secure pole position, Jake was unfortunately denied a potential win, after the car's driveshaft coupling failed on the start line. Subsequent checks on the all the other cars in the championship, revealed many potential future failures and it was just unlucky that Jake was the first to have a problem. Diego was found to be underweight, as a result of a shift in the calibration of the championship scales and he was duly excluded. Pietro was dealt the worst possible blow, when he was excluded for carrying parts on the car that could not be supplied by the championship organisers. An agreement between the team and the organisers had been previously discussed and it was understood that there would not be an issue under the circumstances. However, the following morning a U-turn by the scrutineer forced Pietro to start from the back of the grid. I can honestly say I have never been so disappointed and appalled by the lack of professionalism displayed by certain officials at the Snetterton event and sincerely hope it never happens again."
Just two laps after Race Two had got underway the red flags were brought out. A crash involving three drivers at the front of the field prompted a re-start, sparking even more controversy
There was more anxiety for Jake, as the sophisticated electronics in his steering wheel failed and he toured back into the pits with gear selection problems. With a new wheel fitted, he was able to rejoin the fray but with the sole option of trying to set the fastest lap possible – in order to earn a better grid position for the third and final race of the weekend.
A fired-up Menchaca carved his way from the eleventh row of the grid (p21) to 11th, whilst Fittipaldi scrapped his way to a fine 13th.
With damage limitation now being the main focus for Jake, it was important for the Audley teenager to bank some valuable points in order to keep him in the title hunt.
Starting from 6th place, he was able to pick up a place, but from there was becalmed in a static race. However, in a wholly-unexpected turn of events, he later found himself boosted to 3rd, when the two cars of HHC Motorsport were excluded from 1st and 2nd. Also moving up the order were Pietro and Diego who rounded out the top ten, in 9th and 10th respectively.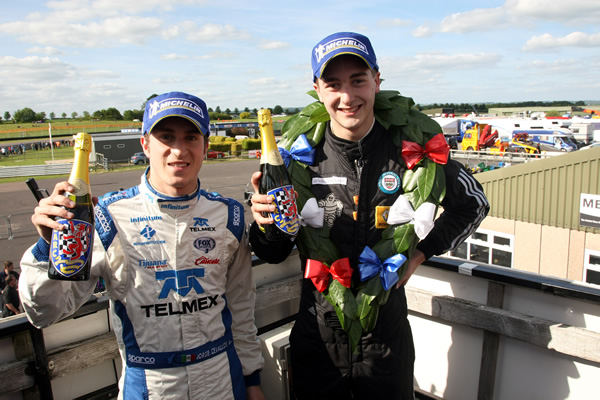 Chris Middlehurst extended his lead in the Protyre Formula Renault Championship with a pulverising display at Thruxton (1/2 June). The St. Helens-based teenager won all three races at the Hampshire venue to put 96 points worth of clear daylight between himself and his nearest title rivals.
Fresh from taking his fourth victory of the season, Chris made it five following a close-fought race with Fortec's Weiron Tan. A perfect lights-to-flag drive in round eight, notched up win number six and duly completed a stunning weekend for him. Chris' sheer dominance was further highlighted by his three pole positions, his subsequent hattrick of victories and setting the fastest lap in two of the three races.
"Chris had an amazing weekend", said MGR Principal, Mark Godwin, "To use darts parlance, he checked out. Three poles and three wins plus two fastest laps shows just what an incredible time he had. However, we are not going to get carried away, there are still some areas we can improve on."
Getting round seven underway, Middlehurst made a clean start to lead the field away from p1 on the grid. However, he was demoted to 2nd and then 3rd by Tan and Ivan Taranov in the Complex. Chris immediately responded by taking a place back at the Chicane.
From there he eroded Tan's lead and on lap five, again at the Chicane, re-took the advantage. A Safety Car period drew the sting from the action and Middlehurst was on his mettle when the race re-started. However, he again found himself down to third spot in the Complex, prompting another fightback.
At the beginning of lap ten, the MGR car was back in 2nd but Tan was now almost four seconds clear out front. This time the Safety car came to Chris' aid, as the marshals cleared two cars that had collided from vulnerable positions. Having fended off the challenge of Jake Cook, Chris mounted a last-gasp bid for the win on the very last lap. Carrying superior speed through Church, he arrowed in on Tan's rear wing and pulled alongside as the pair ran towards the Chicane. Benefiting from holding the inside line, Middlehurst got his nose in front and it was enough to snatch the win.
After the breathtaking drama of round seven, the following race could have been regarded as something of an anti-climax. Chris led from pole position, albeit shadowed by Tan and Cook. At mid-distance the latter pair was joined by Taranov and their ensuing scrap allowed Chris to make the most of the clear track ahead of him, pull away and cross the finishing line some 12 seconds ahead of his pursuers.
Chris had laid down the foundations for his remarkable 'triple' with a superb triumph in round six, on Saturday.
Buoyed by having set the fastest lap for all three races, Middlehurst was further aided by a number of factors. Once in the lead, the battle for second handed him an 11 second lead. A Safety Car barely hindered his progress, so much so, that he was able to set the fastest lap on the final tour.

His team-mate, Mexico's Jorge Cevallos stormed from ninth on the grid to third at the finish. It was to be a satisfying conclusion to a frustrating day, as Jorge told the Renaultsport website: "From the beginning we had problem after problem. The team did a great job for the race though and gave me a great car. Third place was OK, it was good points."
Matteo Ferrer was fortunate to walk away from a monster shunt in qualifying that destroyed his car. "He was struggling with the balance of the car", explained Godwin, "Matteo made a mistake and went off at Goodwood, one of the fastest corners on the circuit. Mentally he's okay and thankfully, physically he's alright too. It is testimony to the Tatuus chassis that the car is wrecked but he emerged with little more than aches and bruises."
With Matteo on the sidelines, Tom Oliphant completed MGR's on-track squad at Thruxton. He made steady progress throughout the two days to finish, twelfth, eleventh and ninth respectively.
In round nine he was in the same group with Cevallos that had become bottled-up behind slower drivers, as Mark explains: "Jorge got stuck behind one driver who had him on the grass when he tried to pass. Tom was part of that same group and they were all running at the same pace but he just couldn't find a way past. But I think we may see Tom running higher up the order at Croft. He likes the circuit and is feeling confident. 'George' (as the team has nicknamed Jorge) went into the weekend feeling very upbeat, but came away disappointed after his third place. We had to retire him from the second race due to problems with his wiring loom and his seventh in the final race of the weekend was not the result he deserved."
Turning his attention back to the championship leader, Mark said: "Chris demonstrated at Thruxton just what a capable racer he is. He's driving very intelligently and has obvious pace. He knows he's still got a job to do and we need to help him finish it."
Croft Circuit in North Yorkshire hosts the series' next triple-header, on 6th/7th July.
Provisional 2013 Protyre Formula Renault Championship Standings (after Rd8):
1st Chris Middlehurst, 258pts; 3rd Jorge Cevallos, 141pts; 12th Matteo Ferrer, 71pts; 14th Tom Oliphant, 70pts

24TH MAY 2013
MGR: First Among Equals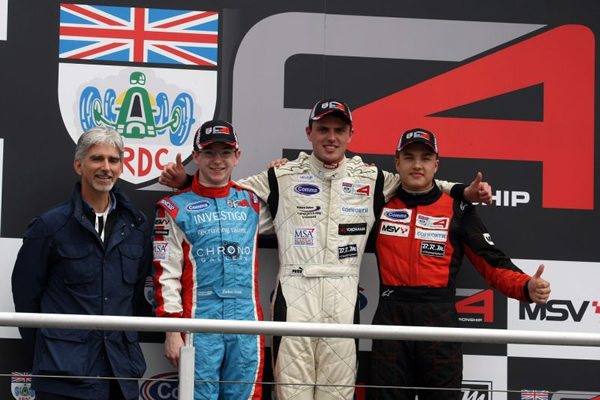 The BRDC Formula 4 championship is proving to be an exciting, close-fought series with drivers and their teams having to be on their mettle in every race. Perhaps this explains why MGR and Jake Dalton left Brands Hatch (19 May) with the series lead…
His margin of victory may have been barely two car-lengths as he crossed the finishing line, but it was enough to put Jake ahead in the new championship and give MGR the psychological upper hand at the DTM meeting. To make his success all the more memorable, Dalton was handed his winner's silverware by none other than 1996 Formula One World Champion, Damon Hill.
Jake had secured pole position with a superb run in timed qualifying and capitalised on his grid advantage by rocketing off the line to lead the 24-strong pack into Paddock Hill Bend. Despite coming under huge pressure from behind, he was never headed, sealing a perfect lights-to-flag victory.
Diego Menchaca was narrowly pipped to a top ten finish - taking 11th - whilst Pietro Fittipaldi also overcame the gearbox problems that had wrecked his qualifying chances, to secure 13th spot.
Sunday's first of two races, gave the large crowd a real treat. The challenging nature of the Brands Hatch Indy circuit and its lack of clear overtaking points, inevitably led to drama and incidents. The Safety Car was required when a car became stranded against the pit wall at the exit of Clearways.
Having started 8th – courtesy of the top eight finishing places in Race One being reversed for the start of Race Two - Jake made up ground to eventually finish fifth, maintaining his championship lead.
Diego enjoyed a strong drive to 8th place, claiming that position with an incisive move at the exit of Clearways, having lined up Jack Barlow for the pass at Surtees.
Sadly Pietro's race ended in the gravel at Paddock Hill Bend, as a result of front wing damage sustained earlier in the race and further damage occurring to his car's left-front suspension and left-hand sidepod in the second incident. On its arrival at the MGR awning, the team sprang into action, facing the seemingly impossible task of repairing the car. Mark Godwin's entire squad of mechanics was joined by Jake's father and Pietro himself to get the Brazilian youngster onto the grid for Race Two - and they did it, with just seconds to spare.
A fighting second was just reward for a mature drive by Jake in the weekend's third and final race. Although clearly frustrated that his older rubber was unable to match the pace of winner Charlie Robertson's fresh tyres, Jake acknowledged the positives: "I got a good start from fourth and (Raoul) Hyman made a mistake at Paddock (Hill Bend) and I punished him at Druids. My thanks go to everyone at MGR who made such a big effort this weekend."
British DTM stars Andy Priaulx and Gary Paffett were enthusiastic spectators of the two BRDC F4 races and so were eager to present the trophies to Dalton and his fellow podium winners.
Jake's result extended his points advantage, but with the field so close and four different winners from the six opening races it is too early to talk about the title: "I'm not thinking about points or championships," he said. "I'm taking each race as it comes."
Discounting the widely held theory that overtaking would prove difficult in the aerodynamically sensitive cars, Diego enjoyed a storming drive. The Mexican teenager started from eighteenth place and carved his way up to ninth place at the finish.
In contrast to the fortunes of his team-mates, Pietro was again reduced to the role of a spectator after being hit off the circuit in a reckless challenge. During the second lap, Fittipaldi was up into the top four having started seventh but an over-zealous lunge by Struan Moore destroyed his right-rear suspension and driveshaft. "A driver locked up his tires behind me and used me as his stop!" he tweeted afterwards.
MGR owner and Team Principal Mark Godwin shared his driver's frustration: "It was immensely frustrating to see Pietro's race end so early, particularly after the mammoth effort that went into repairing the car from the previous race and it looked liked Pietro was shaping up for a good result as well. I think he dealt with the disappointment better than I did, which shows his level of professionalism at such an early stage. I was appreciative of the offending driver coming up during the race to apologise and it was clear to see he was quite upset about it. Diego had a strong weekend of racing and I think if we hadn't had the gear selection problems in qualifying, the weekend could have had delivered so much more. However, the pace and potential is there and it's only a matter of time before Pietro and Diego start to compete regularly at the front."
He added: "Jake had a great weekend and came away with some really solid points on his first ever visit to the Kent circuit. It's clear to see that this championship is going to be very hard fought, but I'm very encouraged by our progress to date, particularly as we started on the back foot before Brands, with only half an hour of dry running. The team is really looking forward to the next race at Snetterton, as recent testing there showed good pace and I know there is still much more performance in the car to unlock"
Rounds 7, 8 and 9 take place at Snetterton on 15/16 June, supporting the British GT Championship.
Provisional 2013 BRDC Formula 4 Championship Standings after Rd6: 1st Jake Dalton, 139pts; 9th Diego Menchaca, 60pts, 17th Pietro Fittipaldi, 31pts

A dramatic and controversial fifth round of the Protyre Formula Renault at Snetterton (12 May) saw Chris Middlehurst claim his second victory of the weekend, extending his advantage at the top of the table to 46 points.
The race gave the hardy crowd plenty to talk about as rain fell half an hour sooner than expected, sending the slick-shod cars into the scenery at the Norfolk circuit.
At the start, Jorge Cevallos rocketed from his second row (p4) grid slot into 2nd with Middlehurst initially losing ground, before rapidly fighting back to 3rd. As the rain intensified, the field began to stretch out as drivers went beyond the limits of adhesion. Sadly, Tom Oliphant's chances of repeating his strong drives in the weekend's previous two races ended in retirement. Whilst running, three abreast, into Brundle he lost grip on a mixture of kicked-up grass and dust, forcing him off the track - as he tried to rejoin the fray, he was collected by a spinning car and sustained damage to his rear suspension. Matteo Ferrer dropped to the rear of the field as the conditions worsened, but staged a superb fightback, hauling himself into 9th place once the first Safety Car period was over.
Jorge too fell foul of the wet conditions and span at Riches, whilst Chris moved up to 2nd, harrying new race leader Ivan Taranov. A second Safety Car period was required when a car became stranded in a dangerous position, allowing the field to bunch up again. When it re-pitted, just two laps remained - but Taranov was able to hold off Middlehurst's late challenge to cross the line clear of the championship leader. However, the stewards judged an earlier move by the Russian on Joe Ghanem to be dangerous and disqualified him, promoting Chris to the top step of the podium. With the rest of the field also moving up a place, Jorge was classified 4th and Matteo's great drive rewarded with a wholly deserved 6th place
The first of Sunday's two races had yielded another valuable points-haul for Chris. Having started from p3, he was baulked on the line by the stalling car of the pole-sitter, allowing Sam McLeod to seize the advantage. From there, Middlehurst shadowed the leader and bravely tried to put himself in front by going round the outside through Coram. With that move rebuffed, Middlehurst maturely erred on the side of caution and drove for the points.
Jorge chipped his way up the order for an eventual 6th place, with Tom delivering a strong performance to cross the line in 8th. Flat-spotted tyres were later blamed for his 17th after running inside the top ten for much of the encounter.
Starting the weekend as he would later complete it, Chris opened his Snetterton account with victory in Saturday's rain-soaked third round. He was made to work for his triumph after a slow getaway from the start line demoted him to 3rd. His team-mate, Cevallos nipped past and into 2nd but a mistake saw him drop down to 6th, as Middlehurst mounted his unstoppable charge to the chequered flag.
If Tom Oliphant's nerves had been rattled by a stall on the line he soon put them to rest and delivered an encouraging drive to 8th with Matteo chasing him all the way home in 9th.
"We had a really good weekend," said MGR team principal Mark Godwin. "Solid performances from Chris – two wins, a second plus a fastest-lap – have stretched his legs in the championship. He's a very intelligent racer and knows what he has to do to win the title. Essentially, that's to keep on racking up consistent results, so I'm very, very pleased with him."
Mark added: "Jorge's pace is really good but his mistakes arguably cost him two podiums. There's more speed to come from him in qualifying and he's not as experienced as Chris but I definitely see him winning races."
Despite having the least motorsport mileage under his belt, Godwin believes that Matteo is one to watch: "He's very green and this is only his second season in cars. He's had no karting experience either and is up against a very competitive field, so for him to come from just one year in Formula BMW to where he is now is a real achievement. He is improving all the time."
Reflecting on Tom's fortunes, Mark highlighted the positives: "He had a really good weekend. Tom's definitely grown in confidence with the car and in terms of what he's doing. He's got a good chance of bagging regular top six results now. He struggled in qualifying, by getting caught up in traffic but took it on the chin and made amends with sterling drives in the races. He's in a good place right now."
One of Britain's fastest circuits, Thruxton in Hampshire, hosts the series' next tripleheader fixture (rounds 6, 7 and 8 of the 2013 Protyre Formula Renault Championship) just three weeks from now on 1st/2nd June.
Provisional 2013 Protyre Formula Renault Championship Standings after Rd5:
1st Chris Middlehurst, 158pts; 3rd Jorge Cevallos, 100pts; 5th Matteo Ferrer, 71pts, Tom Oliphant 14th, 39pts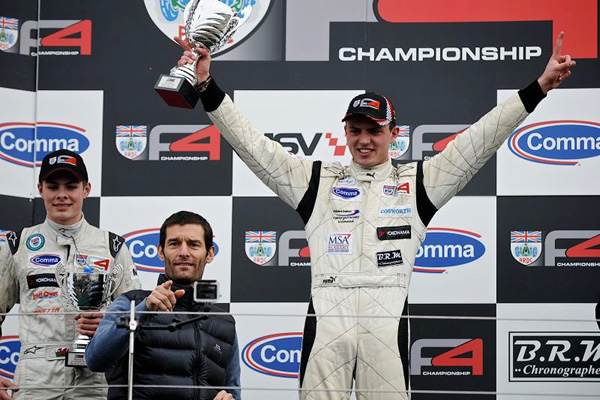 The opening weekend of the inaugural BRDC Formula 4 championship concluded with a scintillating victory for Jake Dalton at Silverstone (26/27 April). His team-mates Diego Menchaca and Pietro Fittipaldi also shone in a superb curtain-raiser to the new series.
However, it was Jake who hit the headlines after winning the third BRDC F4 race, following a thrilling encounter watched by double British Grand Prix winner Mark Webber, who also presented him with the winner's trophy.
With the grid positions determined by the drivers' fastest lap time in Race 2, he started from the front-row and made a superb getaway from the line to lead the 21-car field into Copse. Crossing the start/finish line to commence lap 2, Dalton was nearly two full seconds clear of his pursuers and taking full advantage his fresh tyres.
In 2nd, Seb Morris did his utmost to catch and force a mistake from the MGR driver, but found the Staffordshire teenager equal to any challenge.
Having been sidelined in Race 2 by a broken auxiliary belt, Diego was on a charge from the back of the field to an eventual 9th place. Pietro was sadly reduced to the role of spectator due to an opening-lap shunt.
Back at the front, Dalton put matters beyond doubt when he extended his lead to over three seconds and Morris appeared to settle for the runner-up spot. It was a thoroughly-deserved first triumph for the 17-year old since his graduation from karts to cars two seasons ago. Jake told the BRDC F4 website: "After the first race and that contact (with Jake Hughes) I was a bit disappointed, but had to refocus on all the races. The second race we knew we were compromised a little as we were going on the old tyres, but certainly with putting the new ones on for the third race we managed to bridge the gap at the start and get off the line well. From there I focussed and made sure I ran all the processes correctly. I could see that Seb was keeping the gap so I had it all under control from there really."
"Relief is the best word I'd use [to describe seeing the chequered flag]," said MGR principal Mark Godwin. "I'm thrilled for Jake to get his first win and I'm so happy for the team. They've all worked so hard to prepare the car, everyone has gelled well together. It's nice to come away with something for all that effort."
Jake's win went a long way to make up for his disappointment after the first race. He had been leading but a clumsy challenge from the car behind saw him lose ground and he eventually finished 4th. However, it was a strong outing for all the team as Diego finished 8th and Pietro completed the top ten, after starting from the pit lane.
Fittipaldi starred in Race 2, as he scrapped with Struan Moore and Falco Wauer for 8th place. At one point, the trio ran three-abreast down the start/finish straight towards Copse. His eventual 9th place put more vital early points on the board and left Mark with little doubt about his prospects: "You can see that Pietro has got natural ability. When he's feeling confident and his race craft has developed, I can see him winning races this year."
Jake claimed his first podium of the season with a fine 3rd and another front-row start for the following race, thanks to his second-fastest lap of the race.
Diego's DNF due to water pump failure did little to dampen his spirits, or those of his team owner: "He's got the potential to be very good," said Mark. "He remained upbeat despite it being something of a torrid weekend for him. He recovered well from his earlier disappointments and, of course, how you deal with either mechanical failures or racing incidents makes you a stronger person. Generally, I'm very encouraged with the results we've achieved and the pace of our drivers, particularly as this is a brand new series. I'm confident we can put up a good championship challenge."
Provisional standings after Rd2: 2nd Jake Dalton, 68pts, 11th Diego Menchaca, 25pts, 12th Pietro Fittipaldi, 23pts

Mark Godwin Racing (MGR) dominated the opening rounds of the 2013 Protyre Formula Renault Championship (14 April 2013) with maiden victories for Chris Middlehurst and Jorge Cevallos.
St Helens-based Middlehurst won Race 1 before going on to finish a close 2nd to his Mexican team-mate, Cevallos, in a thrilling dash to the chequered flag at the end of Race 2. This also put the Englishman into a commanding early lead in the points table - "There were certainly no team orders!" said team owner Mark Godwin with a broad smile. "Jorge pipped Chris by a whisker over half a second in a superb curtain-raiser for the championship."
The Protyre Formula Renault series has long been praised for the quality and closeness of its racing, and the crowd gathered at the Leicestershire circuit were treated to some spectacular action in both races. Cevallos won scores of new fans - both in the UK and at home in Mexico - with a terrific performance in the second race. A perfect getaway from the line saw him out-smart the pole-sitter on the run into Redgate, the first corner. Middlehurst was also on the move and by lap 6 was up to 4th after losing ground at the start.
Two laps later, Cevallos had his hands full keeping Joe Ghanem at bay, with Middlehurst now 3rd. As the lead pair scrapped, Chris edged ever closer until, as they approached Redgate, all three ran abreast into the fast right-hander. Down to the Old hairpin, Middlehurst snatched 2nd, with Cevallos maintaining the lead. Now ahead, the MGR drivers worked together to go clear of the chasing pack, to set up a private duel on the run to the finishing line.
"There was nothing between them," said Godwin, relieved that both had kept cool heads and not collided. "Jorge was under pressure throughout, but showed his quality by not putting a wheel wrong. Similarly, Chris did a fantastic job.
In round one, Cevallos had started from 5th place on the grid, but a storming start saw him in 2nd as the pack prepared to file into the Craner Curves. A stranded car brought out the Safety Car but at the re-start Jorge made a small but costly error that cost him places and he was forced to complete the race without a front wing. To add to the drama, rain briefly fell and the positions began to shuffle again. In contrast, Middlehurst had carried superior speed through the exit of Redgate and through Hollywood to surprise Sam McLeod and take 2nd as they wound through the Craner Curves
On lap 11, Chris made the most of his car's set-up and posted the fastest lap of the race and monstered the rear of the leader's car. Four laps later, his relentless pressure paid-off and he pulled off an outrageous pass down Ghanem's inside going into Redgate. This sparked an enthralling three-way fight for the win, with Middlehurst doggedly holding on through the final lap to seal his first triumph in the series. There was added delight when fellow MGR driver Matteo Ferrer gave a great account of himself on his debut, with an excellent drive to 5th.
"Chris was quite superb. This is what the fans pay their money to come and see; exciting young talents demonstrate their ability, courage and commitment in a hard-fought but clean, close championship. I was delighted by Matteo's performance also. He is developing some real pace and racecraft for someone with so little experience. I can't wait to see how he develops as a driver this season. Jorge started brightly but struggled with front tyre wear after losing the front wing, so he sensibly opted to keep out of trouble and drive for points."
Commenting on Tom Oliphant's fortunes, Mark said: "Tom had what can only be described as a character-building day. He didn't record a quick time in qualifying after missing the latter part of the session, which left him facing a tough task in both races. He drove brilliantly in the first race but made a slight mistake which resulted in his DNF. That didn't reflect the quality of his performance and he deserved more from the weekend as a whole. His 11th in Round Two put vital points on the board for him, so he didn't come away completely empty-handed."
Reflecting on his team's success he added: "This has been an outstanding way to start our Protyre Formula Renault campaign. Everybody has worked incredibly hard over the winter to achieve these results but there is a long way to go and a lot more to come. We have laid down a marker but our rivals have also shown that they are very competitive too. We cannot afford to be complacent but we will also enjoy this moment and hope to replicate it at Snetterton."
Provisional standings after Rd2:
1st Chris Middlehurst, 62pts; 2nd Jorge Cevallos, 42pts, 4th Matteo Ferrer, 36pts, 15th Tom Oliphant, 11pts

Jorge Cevallos fired an early warning shot to the 2013 Protyre Formula Renault Championship title hopefuls during an officially timed pre-season test at a bitterly cold Silverstone on 21 March, by topping the timesheets more than 0.3 seconds clear of his closest rival.
Having led the way in the second of the day's four sessions, and then concluding the third outing inside the top three, the Mexican 18-year-old turned up the heat during the final run to deliver a scintillating time of 56.130 seconds (105.21mph). Impressively, Jorge's quickest effort was almost 0.2 seconds inside 2012 Protyre Formula Renault Champion Scott Malvern's race lap record.
"It was a bit of a late deal here with MGR, so I'm really happy we can be straight on top with limited testing", said the teenager, whose return was only confirmed at the start of the week, "I think it puts a good statement out there that we're going to be good contenders for the championship. We've just got to take it round by round and then, hopefully, we'll be able to get a good result at the end.
"Last year was really difficult, we came here from Mexico and I was out here living by myself so there was a lot of stuff to get used to. I didn't know any of the tracks, so that was a big disadvantage, but now we have a year under our belt, we have good experience of the car and the tracks and I have the right people around me to put up a good fight this year."
His team-mate, Chris Middlehurst, was second-fastest on the combined timesheets by virtue of his session three-topping best of 56.457 seconds (104.60mph) just enough to eclipse his other team-mate, Diego Menchaca.
The Mexican, like compatriot Cevallos, is part of the prestigious Escuderia Telmex driver programme. He ended the day third fastest with a lap of 56.462 seconds (104.59mph) during his final run, having gradually progressed throughout the test.
Brazilian youngster Pietro Fittipaldi – grandson of legendary two-time FIA Formula One World Champion, and double Indy 500 winner, Emerson – also tested at the circuit where his grandfather made his Grand Prix debut in 1970. Pietro's best lap of the day, 58.721 seconds (100.56mph), came during session two.

Mexico's Jorge Cevallos, who is part of the prestigious Escuderia Telmex driver development programme which features FIA Formula One World Championship star Esteban Gutiérrez, will return to the Protyre Formula Renault Championship for 2013 after signing with MGR Motorsport.
The 18-year-old from Tijuana completes the team's four-car line-up for the 2013 campaign, making a welcome return to the category following a promising 2012 maiden season where he ended the championship inside the overall top 12 and secured a best result of 6th place.
Prior to his arrival in the UK last year, Jorge had only contested a handful of car races in the Latin American F2000 Challenge Series and the Skip Barber National Series. He started karting in 2008 and enjoyed a great deal of success in the USA and South America.
Cevallos joins Chris Middlehurst (St. Helens, Lancashire), Matteo Ferrer (Ipswich, Suffolk) and Tom Oliphant (Tarporley, Cheshire) – and team owner Mark Godwin is confident his latest signing has what it takes to be a podium challenger.
"Based on last year, Jorge should definitely be a front-running driver throughout the season", said Godwin, "I'd put him in the same category as Chris [Middlehurst] really, they should both be strong and they each need to be aiming for podium finishes and the championship.
"Quite a few of the drivers who were battling at the front last year have moved on, so the second year racers like Jorge should be the ones to be consistently up there. He's looked very solid so far in testing and it's good for MGR, from a profile point of view, to have a Telmex programme driver with our Protyre Formula Renault team. It was always the aim to have four cars, so we're delighted."

4TH APRIL 2013
MGR signs Diego Menchaca for 2013 BRDC F4 Campaign

Diego Menchaca has signed for MGR, to contest the BRDC Formula 4 Championship for 2013.
18-year-old Diego hails from Mexico and began karting in 2007. In his national Rotax Junior Championship he quickly became a regular podium finisher, before securing his first title the following year in Mexico's National Karting Championship - a series he would go on to win for three consecutive years.

In 2010 he contested selected races in the Latin-American Challenge F2000 Class before finishing third overall in the same category a year later, as well as being crowned top rookie. In 2011 he experienced his first taste of racing on UK soil in the Formula Renault BARC series, securing 11th overall with six top 10 finishes. He is also a member of the prestigious Escuderia Telmex young driver programme which features FIA Formula One World Championship star Sergio Perez and Esteban Gutierrez.

"I am very happy to be racing in the new BRDC Formula 4 Championship, together with Escuderia Telmex we think it is the correct step in my career," said Diego. "Mark and the team have really impressed me and I am confident they are going to provide me with a good car. British single seater racing is very competitive and there are a lot of very talented drivers, but I'm very much looking forward to the challenge ahead and doing the best I can."

MGR Team Principal Mark Godwin added: "We're very pleased to welcome Diego to our line-up alongside British driver Jake Dalton. I watched him compete last year and was very impressed with his pace and I know he's going to do a great job for us. It's also very encouraging to see that the appeal of F4 has stretched overseas and that we'll have an international field for the inaugural season."

Protyre Formula Renault Championship front-runner Chris Middlehurst , second year competitor Tom Oliphant and series newcomer Matteo Ferrer have committed to MGR Motorsport's 2013 assault on the 16-round season.
Chris enjoyed a strong 2012 debut season in Protyre Formula Renault, ending the year ninth overall, with two podiums to his credit. He went on to mount a strong challenge in the Winter Series, where he took two further rostrums from the four races contested.
The 18-year-old son of former racer Andy Middlehurst will certainly be a championship challenger in 2013 and is aiming to secure his maiden race victory in the category.
Tom, like Chris, is embarking on his second season in Protyre Formula Renault this year and the 22-year-old will be hoping to continue where he left off during the final event of last November's Winter Series.
After a difficult main championship campaign, he moved to MGR for the Rockingham rounds of the Winter Series and showed a marked improvement by achieving a career best finish of 7th place.
Protyre Formula Renault newcomer Matteo - who is of Venezuelan, German and Italian heritage - had no previous karting experience prior to his motorsport debut last year in the InterSteps Championship, but developed significantly as the season wore on.
Ending the year 8th overall in the driver standings, he is now preparing for a major step-up in competitiveness and has already made a strong impression on MGR team principal Mark Godwin during initial winter test outings.
"I watched Matteo develop during the 2012 Intersteps Championship, and was really quite impressed considering his complete lack of experience. From what I saw during our winter testing in Valencia, I believe we can look forward to a very competitive year." said Mark, "Tom has looked strong in winter testing and we're confident he's going to have a good season, he did a great job with us in the Winter Series considering how much he had to adapt to the new car and team"
"We're very confident Chris will be challenging up at the front from the off, what he achieved last year was very impressive– especially towards the end of the main season and in the Winter Series – so we're sure with our determined and structured approach, that Chris will be a strong contender."
Rounds one and two of the 2013 Protyre Formula Renault Championship will take place on 13/14 April at Donington Park National Circuit in Leicestershire – MGR's home track.
Commenting on the team's exciting trio, championship promoter Simon North said: "MGR is obviously one of the most competitive and well run teams in Protyre Formula Renault and we're delighted Mark has confirmed three drivers already for the new season. Knowing a fourth car is also highly likely with the team is fantastic news for the championship."

16TH NOVEMBER 2012
Close, but no cigar for Mason and MGR
Just nine points separated MGR's Matt Mason from the top of the Winter Series points table, as the championship concluded at Rockingham (10 November).
Qualifying
Matt was joined at the Northamptonshire circuit by new team-mates Tom Oliphant and former kart star Jake Hughes. After the wet qualifying session he was 4th overall, with Tom 9th and Jake 12th. In pre-race practice, the impressive Hughes had been mightily quick in dry conditions, but was a little caught out by his inexperience when the rain fell. With the drivers' second-fastest lap determining their grid positions, for round four, Mason and Hughes maintained their grid positions but Oliphant managed to move up to P8.
Race One (round three)
A strong start saw Matt make up a place as the 20-strong filed streamed into Turn two. However, he was shuffled back several places as the first of two safety car periods commenced. It also appeared that he had been passed by one driver under full course yellows and he could be seen remonstrating with the transgressor as they ran down the start/finish straight.
With the race getting underway again, Tom soon picked up a place whilst Jake maintained 12th spot. Another incident brought out the safety car and at the resumption of the action Mason held 5th, with Hughes 9th and Oliphant recovering from a coming together in 11th. More drama promoted Jake and Tom into 7th and 8th respectively, as the commentator's rising pitch indicated that there were just three laps remaining.
Despite closing in fast on one of his closest title rivals, Jack Aitken, Matt could not overhaul the Fortec driver and had to settle for 5th. Tom crossed the line in a creditable 7th with Jake also confirming his status as an exciting prospect in a fine 8th place.
Race Two (round four)
As the earlier rain gave way to overcast but dry conditions, the teams were faced with a pre-race dilemma - whether to stay on scrubbed-in wets or gamble on slicks. Jake bravely took the decision to go for the latter, with Tom also following suit. Matt deliberated for an agonizing few minutes as the marshals urged him to leave the garage and join the grid, before finally opting to play it safe and stay on treaded tyres.
Initially, he and the majority of the competitors appeared to have made the right choice, as Oliphant and Hughes slithered around on the greasy surface. Indeed Matt had been able to move up to 2nd as he completed the first lap, whilst Tom brought up the rear of the field after a spin.
At the midway point, the race appeared to have stagnated into something of a procession, with. Matt still 2nd, Jake plugging away in 15th and Tom fighting his way back from last place.
With each passing lap, what had been a narrow dry line became ever wider, allowing Oliphant, Hughes and the race's only other slick-shod runner, Matt Brabham, to make the pace. The evidence of this was demonstrated perfectly when Jake narrowly avoided running into the back of Luke Williams as he slipstreamed him down the straight and went to pass at the banked Turn One. Almost surprised by his own speed differential, Hughes had to veer to the right to avoid running into the back of his rival. The excitement ramped-up further as Jake then ran three abreast with Williams and Joe Ghanem on the following lap.
An anguished cry from the crowd signalled that the fight for the lead had resulted in a collision. This seemingly promoted Mason to 2nd from 3rd – however it later emerged that the chequered flag had been waved a lap too late and Matt was classified in the place in which he had crossed the line on the previous lap. Jake brought his car home in 13th with Tom three places further back.
Despite the strong performances, team principal Mark Godwin couldn't hide his disappointment at not clinching the Winter Series title: "I'm absolutely gutted. We didn't make the most of the thirty minute qualifying session and that compromised our set-up in the first race. On the plus side, Matt remained highly motivated and kept pushing all weekend."
Mason was equally candid, admitting that a race-long battle with oversteer compromised his speed and he was frustrated after passing the spinning Brabham for 2nd but being classified in 3rd place: "My verdict on the weekend? Disappointing. But the best teams can't get it right all the time. We were on top at Brands and Fortec on top at Rockingham. However, I'd like to say a 'big thanks' to all the boys for their hard work and commitment."
Jake Hughes' first outing with the team left Godwin impressed: "I think Jake did an exceptional job. Putting slicks on (for the second race) was brave and the fact that he took that gamble himself was amazing. In the end, he wasn't experienced enough to make it work to his best advantage but he told me 'I'm glad Brabham got the fastest lap because it proves I was right.' Jake is going to be very, very good."
Hughes was somewhat phlegmatic as he reflected on his performance: "The two practice days were really good. I was mainly on the pace of the top four and that gave me a lot of confidence, although I'd never driven the track in the wet. The damp conditions made me realise what is required to get more from the tyres. For the first three quarters of the race they were terrible. I had no traction and really struggled. It was only in the last two laps that I felt I had grip. Matt Brabham had got heat into his tyres much earlier but I struggled. However, it is early in my career, so it is not all bad."
Tom's first weekend with the team proved to be something of a revelation for the Antel refugee: "Tom arrived to test on Thursday and the seat wasn't right. We got a new one to him within two hours and he told me that he'd raced a whole year with an ill-fitting seat and we'd sorted it in just two hours. Tom is a mature, thinking driver and I'm delighted that he'll be testing with us over the winter."
The 22-year old Masters degree student was equally effusive: "The team was really, really friendly. There's a very relaxed, great family atmosphere and I instantly felt comfortable and confident in that environment."
Reviewing the weekend, he said: "Testing went well, although I had issues with the tyres but felt the potential was still there. I thought I did well in qualifying and really enjoyed the first race and felt confident with the car, as it allowed me to be aggressive and attack for places."
Tom added: "The big gamble on slicks for the second race was mutually taken between me and the team. It was definitely the right way to go. I think I was tapped from behind or hit a wet patch on the circuit and the car went from beneath me. If I'd kept the car pointing in a straight line for the whole race, I think I'd have been on the podium. Overall, MGR brought a lot of good things to me. The driver coaching from Mark was fantastic and I fitted in the car, which being tall, no team has ever helped me to do before. I was no longer a passenger! I have nothing but good things to say about MGR; especially Mark and Dale, my mechanic. I'd like to thank them for a brilliant weekend."

Matt Mason splashed his way to a superb victory in the opening weekend of the Protyre Formula Renault BARC Winter Series at a sodden Brands Hatch (21 October).
Keen to make amends for an unforced error in Saturday's (1 October) opening race of the four-round championship, the MGR Motorsport star got a superb getaway from P2 on the grid and drove round the outside of pole-sitter Jack Aitken as the 20-strong field streamed into Paddock Hill Bend for the first time.
At Druids, Matt explored the limits of grip as he ran wide, allowing the fast-starting Seb Morris to close. He tracked Mason for the remainder of the opening lap before committing to his bid for the lead at Clark Curve. Matt instantly responded, and the pair ran side by side into Paddock Hill Bend, but he wisely ceded the lead rather than risk contact.
Morris' advantage would last less than a complete lap and he slithered off under pressure from the MGR driver at Surtees. With the competitors behind him also exploring the limits of adhesion behind him, Matt gained a small advantage and he set about extending his lead with a string of fast, consistent laps. Having stalled on the startline, his team-mate Gustav Malja entertained the crowd with a display of bold overtaking moves and pace, despite the treacherous conditions. Sadly, his race ended up against the barriers at Clearways as he was attempting to make up another place having got as high as 9th.
Out front, Mason had calmed his driving down and was experiencing no such dramas. Chris Middlehurst began to chase down the former British Open karting champion, and for several laps they traded lap times. He settled matters with a stunning tour of the legendary, former Grand Prix circuit, taking his lead to nearly three seconds and killing off any further challenge from his rival.
"That was good," Matt said after his victory, "But to be honest I'm still pi**ed off about yesterday." He added: "I knew I had to get a good start and got traction (off the line) pretty quickly. It was quite easy going round Aitken, but I had a moment going through Druids. Seb was also able to catch me because after that first lap I was being a little too conservative, due to going off the day before."
Matt revealed that he has not raced a FRenault BARC in such conditions before and believed that Morris was able to use his speed and lines as a guide to approaching each corner. Not only that, he spent a lap and a half dialling in his brake bias but suffered no further issues: "I found my groove and pulled away."
For team owner Mark Godwin, Matt's triumph was the icing on the cake: "For us it was a very successful weekend overall. We had exceptional pace in qualifying and were very fast in both wet and dry conditions. We locked out the grid for race one, with Matt on pole and Gustav second, we would have won the race but for Matt's error. He had good pace in race one and showed his class in race two. He also demonstrated a lot of resilience to come back in the way he did, it displayed a lot of character."
Godwin was quick to silence any detractors about Malja's contrasting fortunes: "It was a tough weekend for Gustav but he was learning a new circuit, car and tyres. His raw speed and overtaking is evidence of a good racecraft. We just have to polish a few areas and he'll be running at the front."
Mark believes that throwing away the lead on Saturday turned Mason into a winner on Sunday: "Matt is supremely confident in his own ability; sometimes too much. There is fine line between unshakeable belief and arrogance and I think Matt is just on the right side of that and losing a big win hit him hard. Although Matt had only intended competing at Brands as a warm-up for his MRF debut at the India GP this weekend, he now feels compelled to compete at Rockingham and try and secure the team's first championship title!!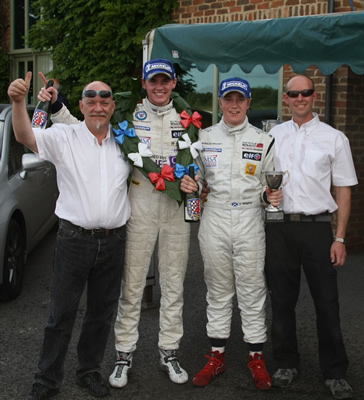 Webster back on target after a perfect weekend and three drivers in the championship top 6.
MGR's season is well and truly back on track after a successful weekend at Croft in the North East. The teams points leader Josh Webster won both races, and there were much needed podiums from both James Fletcher and David Wagner, David's coming from an excellent maiden pole position for the driver in race 2. It marked a great turnaround completed by all three drivers, after sizeable accidents recently for both David and Josh, and a curious lack of speed from James last time out at Thruxton.
First qualifying showed the pace of MGR this weekend, with 2 drivers inside the top 3, and a third season pole for Webster. Wagner and Jake Dalton were less happy in 14th and 10th, although with the first 11 runners inside 1 second, fractions were literally what Jake was missing and 0.1 sec would have placed him in 6th!! For James, it was a happy and impressive showing in 3rd, inside a very competitive top 6. Come the race, Josh made a perfect getaway and thereafter pulled away consistently to take his third win of the year by 6 seconds, including fastest lap. James held his nerve to secure 3rd behind the experienced Kieran Vernon and a welcome return to the sharp end, but in many ways MGR's star of race 1 was David Wagner who progressed from his 14th grid slot to finish 6th after a very strong and consistent drive. Dalton also marked himself out, after a first lap spin dropped him to last place, by matching the leaders lap times as he passed 7 cars while recovering.
Race 2 saw three of MGR's drivers start inside the top 5 in a fantastic qualifying performance, topped by David Wagner's first pole, which he secured in only 1 lap after a red flag for an incident! Sadly, David couldn't convert his pole and made away 3rd at the start after a perfect getaway from Josh saw him into the lead. Scott Malvern this time pressured Josh the whole race, while David's mirrors were full of James Theodore. Both drove perfectly, without mistakes to finish 1st and 3rd. Jake had a race to forget, with a heavy accident at the Sunny corner while pushing hard again to move up. He had, again, been matching the leaders times and was rueing his quali positions. Next time.. Fletcher had been on for a strong 6th after passing Seb Morris in a fine move near the end of the race. Unfortunately for James, Morris tried a move that was never on at the final hairpin and contact was inevitable. James recovered first though and dropped only 2 places.

All in all, it was an extremely strong team performance and bodes well for MGR in the remaining BARC races and planned winter events. The team currently has three of its drivers in the Championship top 6.
The team head to Donington Park for the next three rounds of the series on the 15th & 16th August.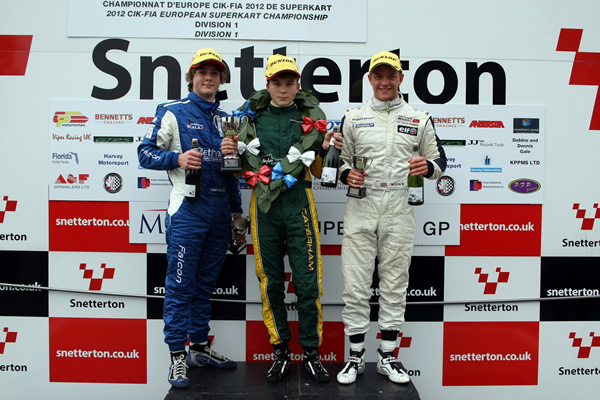 MGR's Matt Mason form Nottingham is still lying a strong 2nd overall in the series after a challenging time the latest rounds at Snetterton circuit, Norfolk, last weekend. Qualifying on a damp but drying track had left Matt with a lot of work to do, placed 8th overall and a fair way off the pace. Additionally, Matt had a 3 – place grid penalty carried over from the last round at Brands Hatch, which actually placed him 11th and last. Swiss driver Jan Schwitter had a better session, placing 4th overall on his first visit to the track.
A great race start by Matt had him up 2 places even before the first corner and by the end of a storming lap he had passed 4 cars. Jan also finished the lap strongly in 3rd. Matt's fantastic progress continued throughout the race, dealing decisively with traffic and being slightly delayed by only the car of Cameron Twynham. By lap 8 he was up to 3rd and set about closing down the2 .5 second gap to Venter. This he achieved in short order, and in a thrilling final lap crossed the line almost neck and neck with Venter to almost take 2nd place! The gap was only 3/100ths across the line, a superb drive. Schwitter, having held 4th for most of the race, just lost out to Twynham on that final tour. Matt also bagged fastest lap.
The second race saw Matt start a more promising 5th, and again he made short work of the traffic to soon rise to 3rd behind the 2 Fortec runners Parry and Aitken. Try as he might though, the three were closely matched for pace and Aitken defended well to hold that 2nd place to the end. Jan would follow Matt home in 4th having successfully fended off Liam Venter.
The third race was tough work for both of MGR's drivers, and despite many overtaking attempts Matt was unlucky to find himself boxed in on a few occasions, undoing the work he had done. The pair finished in 5th and 6th.
Matt's consistent point scoring however places him 2nd overall and only 16 points away from series leader Parry, with 32 on offer for the win, so it's still to play for.
Points
1 Matt Parry Fortec 245
2 Matt Mason MGR 229
3 Jack Aitken Fortec 161
4 Liam Venter Falcon 142
5 Jan Schwitter MGR 138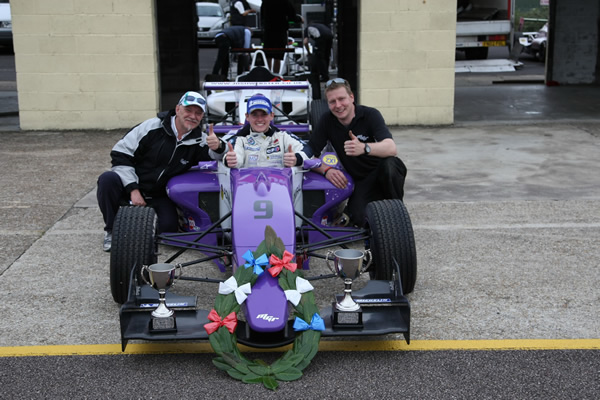 3 drivers in championship top 6
The latest BARC Renault meeting at Thruxton brought MGR's Josh Webster right back into Championship contention, with a win and a 2nd place from two pole positions, and also confirmed MGR as easily the strongest team of the BARC series, with three of our drivers in the top 6 of the series table.
The single qualifying session at the ultra-fast Thruxton circuit produced great results for the team, with Josh Webster taking 2 pole positions, and Jake Dalton and David Wagner both firmly in contention – putting 3 MGR cars in the top five for both race 1 and 2, a very strong all- round performance. David and Jake shared a 3rd and a 5th slot each, easily their best qualifying rounds of 2012 so far, and particularly impressive from the inexperienced Dalton, right up amongst the more seasoned drivers on this very fast course.
Race 1 got underway with a fast and competitive duel between Webster and Scott Malvern, with Dalton holding a really impressive 3rd on his first Thruxton race weekend. Wagner had dropped a place to hold 6th in the opening laps. As the two leaders began to edge away a little Jake was jumped for 3rd by the experienced Kieran Vernon, and with David chasing Walsh for 5th, these 6 drivers pulled away from the field. Josh could not quite find a way past the wily Malvern for the lead and kept the Championship in mind, also bagging the points for pole and fastest lap. Three finishers in the top 6 a great team result. James Fletcher had qualified a little off his team mates in 13th slot, and in the race managed to get tripped up a couple of times in cut and thrust traffic and got himself pushed down to a disappointed 18th place, whilst posting a much faster lap than those around him.
Race 2 was another Webster vs Malvern scrap for the lead, with Josh leading away and opening up a small gap in the early stages. However, a gritty Malvern hunted Josh down lap by lap, reducing the gap from 1.5 sec right down to nothing, and on lap 11 made a fine pass for the lead. Josh did not give in however and dived inside at the Complex 2 laps later to re-take the lead. Malvern had a quick spin and would finish in 5th. Jake Dalton had held a great 3rd position for a few laps, but was jumped by Walsh in good pass under braking for the Complex which Jake was sporting enough to acknowledge, ' It was a really good move, very late and surprised me completely.'
Still – 4th place was a great showing from Jake. James Fletcher had a much more competitive run to 8th in race 2, but was very frustrated by the mobile chicane of Fortec's Martin Cao, clearly much slower, but swerving and blocking in determined style.
For David Wagner, after starting from a great 3rd slot, the race would end prematurely in a sizeable 3 car accident also involving Series leader Morris. David was a little slow away, and a compromised exit from the chicane end of lap 1 put three cars side by side into turn one. There just wasn't room, and David, caught in the middle had nowhere to go… Morris, charging through from the rear, collected the accident too. A great pity for David after such a promising practice.
MGR look forward to another competitive weekend at the Croft race circuit on the 21st & 22nd July.

The fourth and fifth rounds of the Protyre Formula Renault BARC Championship took place at Rockingham Motor Speedway on 19th and 20th May. Despite having to completely rebuild one car due to an accident in qualifying and suffering electrical issues with another, the Nielsen Chemicals backed team bounced back to score a podium place in both rounds. All four of the team's drivers now hold positions in the top 8 of the championship.
First qualifying took place in tricky conditions due to heavy overnight rain. The wet and slippery circuit caught many drivers out and the session was interrupted by four red flags as stricken cars were removed from the track. One of these flags was for MGR driver and championship leader, Josh Webster, who was involved in a huge crash at the high speed first corner. A back marker lost control of his car on the exit leaving Webster, who was following close behind, to plow into the side of him and then into the wall. The impact was huge and caused a lot of damage to the MGR machine. Much to the relief of those watching, both drivers escaped with no injuries although understandably, were a little shaken. Due to his lack of running, Webster lined up in 16th place for race 1.
MGR's David Wagner suffered with an electrical fault which resulted in only one timed lap for the Scot. Despite his problems, he managed to qualify in a credible 11th place. Jake Dalton and James Fletcher showed MGR's pace as they both put in fantastic laps to qualify in 3rd and 6th places respectively.
The team then worked on rebuilding Webster's car and solving the electrical problem on Wagner's before qualifying two. Unfortunately, the damage to Webster's car was so severe that it was impossible to rebuild it in time. Fletcher put in a great lap to take 3rd on the grid for race 2, with Dalton qualifying in 6th and Wagner in 10th. As a result of not making qualifying two, Webster lined up for race 2 at the back of the grid.
Race one took place in dry conditions. At the start, Fletcher got a great launch and immediately climbed from 6th position to 3rd place, just ahead of MGR teammate Dalton. Fletcher managed to stick with the leaders throughout the race and secured his first podium slot this year by crossing the line in third. Dalton, who held 4th place until the safety car came out mid race, was suffering from a lack of straight line speed. He fell to seventh after being passed on the penultimate lap by team mate David Wagner, who had made good progress from his 11th position start to finish in sixth. Josh Webster moved up from a 16th position start, finishing in 13th place despite damaging his front wing on the first lap.
In race two MGR again performed well with James Fletcher securing his second podium of the day by finishing in 3rd place. Dalton initially ran inside the top 8 but seemed to struggle with straight line performance and had to defend from those behind. A couple of laps from the finish he was forced off the track and eventually rejoined in 12th, where he would finish. David Wagner's electrical problem returned at the beginning of the race and had to retire. Josh Webster made fantastic progress from the back of the grid in the opening few laps. Much to the disappointment of the team, he was spun around by another driver, resulting in him dropping to the bottom of the field. He managed to fight his way back through to 20th position.
MGR's driver coach said: 'This was a difficult weekend for the team. Unfortunately, our driver and championship leader, Josh Webster, was caught up in two accidents that were not his fault. With David, we struggled with an electrical issue but a thorough investigation will be carried out to get to the bottom of this. James put in a strong performance over the weekend and a double podium for him was well deserved after his hard work. Jake is again impressing in his debut season in car racing, with his best qualifying of third position and finishing within the top 12 in both races.'
MGR's chief engineer, Mark Godwin said: 'It's been a hectic couple of months for the team. However, the strength and depth of the team is highlighted with our drivers battling for both the Formula Renault BARC and Intersteps championships. Now we have a short break for some testing and to prepare the cars before the next round at Thruxton where our four drivers will be fighting for the race wins and podium positions.'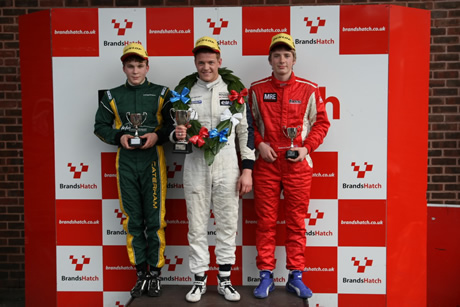 MGR Motorsport's Intersteps series drivers Matt Mason and Jan Schwitter scored 3 podium finishes between them at last weekend's rounds 6, 7 and 8 held on the Brands Indy circuit.
Nottingham driver Mason, who had led the series since the start of the year, scored a win and a 2nd place and Schwitter left the Kent circuit smiling for the long drive home to Switzerland after posting his season's best finish yet.
Matt was left a little frustrated, having never quite found the correct balance on his car which was working its rear tyres very hard. Matt won Saturday afternoon's race but felt he had taken too much out of the tyres to be fully competitive on the Sunday.
The team now intend to use the long 7 week break to concentrate on finding a bit more performance from their cars and whilst Matt has now slipped to a close 2nd overall in the points table there is still a long way to go in the season and the team are confident they can get back to the top soon.
The team head to Snetterton on 14th/15th July for rounds 9, 10 & 11.
Leicestershire-based MGR Motorsport and Team Principal, Mark Godwin, provide a blend of excellent race car preparation and individually tailored driver development and coaching to give drivers the very best chance of success.

MGR Motorsport's Matt Mason left a wet and windy Donington Park race circuit with his BARC Intersteps Championship lead intact, after 3 races held under difficult track conditions. All three of the MGR's drivers also finished in the top 6 in each race, underlining a very solid team performance.
The weekend also saw an impressive maiden podium for MGR's 16 yr old Swiss driver Jan Schwitter in his first season in UK competition, and three top 6 finishes for James Fletcher despite encountering some difficulties.
Mason's race 1 almost never began, after losing the clutch during the green flag lap, but the 19-year old from Nottingham, rather than pitting, chose to take up his 3rd place grid slot in neutral, and showing superb initiative simply banged the car into 1st gear by brute force when the lights went green! Initially running 4th after his 'makeshift' start, this became 3rd on lap 2 as Liam Venter ran wide, and 2nd just one lap later as Halminen also had a poor exit from the Goddard chicane.
MGR's James Fletcher and Jan Schwitter brought their Mygale chassis home in 5th and 6th respectively, Fletcher having lost most of the test day with a similar clutch problem to Mason's. This an issue which is undergoing investigation by the team.
Race 2 was a more competitive outing for the MGR entrants, and while form man Parry secured another win, Mason was hot on his heels in second, finishing only 1.5 seconds behind and securing the two points for fastest lap too. Jan Schwitter in only his fifth UK car race came home in 3rd slot, with James Fletcher 5th and only 5 seconds from the winner.
The third race was held on a wet and extremely slippery circuit, and Mason, battling some traction and oversteer issues, bagged another 2nd place to round out a very consistent weekend from him. Parry was 3rd after a drive-through penalty for jumping the start, with Schwitter and Fletcher switching places this time for 5th and 6th.
Matt Mason now leads the Intersteps Championship by 6 points from Matt Parry.
The team head to Brands Hatch for the next rounds of the series on May 12/13.

17TH APRIL 2012
MGR riding high in Protyre Formula Renault BARC Championship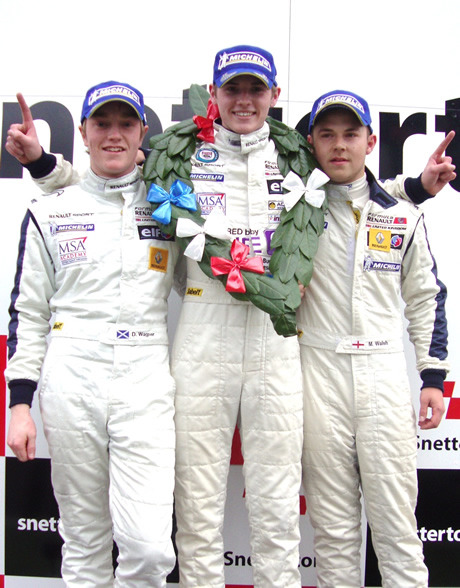 L to R Wagner, Webster, Walsh
The MGR Motorsport team is celebrating a fantastic start to the 2012 Protyre Formula Renault BARC Championship campaign. In the first race of the 2012 season, the team secured their first one-two podium result with drivers Josh Webster and David Wagner.

New addition to the team, Josh, left Snetterton topping the driver's points table, following three enthralling races at the challenging 200 layout track.

Strong results from David and fellow driver's Jake Dalton and James Fletcher, who currently sit fourth, seventh and tenth in the championship, have also bouyed the team ahead of the next clash at Rockingham on May 19/20th.

The weekend was not without its drama, with James suffering a DNF after twelve laps in race one due to mechanical failure and Jake unable to get beyond 9 laps of race two after a daring overtaking manoeuvre on fellow competitor Macaulay Walsh sadly ended in suspension damage as the gap Dalton had found swiftly disappeared.

Despite these teething problems, the four talented racers went on to secure an impressive five podium places and 237 points across the three-race weekend.

Team Manager, Mark Godwin, said: "We couldn't ask for a better start to our championship season. To have secured our first team one-two is a fantastic achievement by the whole team.

"Congratulations to Josh, David, Jake and James for their efforts this weekend. Our drivers have worked hard, learning from each other's skills and always pushing for the best results, backed up by a strong team here at MGR.

"It's great to see Josh set the bar very high, claiming the lead of the championship.

"It's a long season and many things can happen but for sure at the moment we're all happy."

Leicestershire-based MGR Motorsport and Team Principal, Mark Godwin, provide a blend of excellent race car preparation and individually tailored driver development and coaching to give drivers the very best chance of success.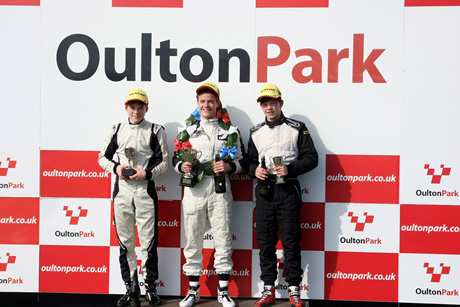 MGR Motorsport's Matt Mason (1st) and James Fletcher (3rd) celebrate on the podium after race one.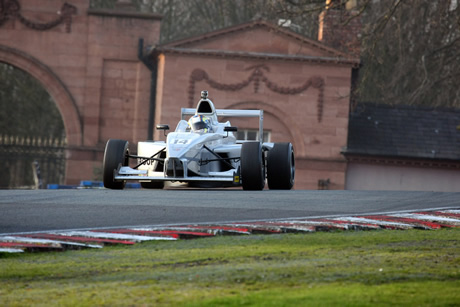 MGR Motorsport's Matt Mason drives to victory at Oulton Park
MGR Motorsport has made a superb start to their maiden InterSteps season at Oulton Park, with driver Matt Mason (14) taking a clean sweep of first places.
Having qualified in P1, from lights out on the first race of the 2012 championship, Matt never dropped back, claiming top spot on an all Brit podium, ahead of second place, Matt Parry (1) with Mason's MGR team-mate, James Fletcher (15) in third.
James ran a strong race, despite a minor electrical problem in the second half of qualifying, just four hours prior to the first race. Fletcher powered past eventual fourth place man, Liam Venter (7), early in lap two and never looked back. MGR's third racer, Switzerland's Jan Schwitter (12), maintained his qualifying position of fifth throughout the race, finishing just three seconds behind Liam.
As the clouds closed in for race two, the mood in the pit garages stayed sunny and the team were duly rewarded with Matt claiming his second victory, giving him top spot in the drivers championship. Fifth place went to Jan who skillfully held off a competitive Cameron Twynham (2), finishing 1.329 seconds ahead, just 0.268 seconds behind team-mate, James.
With no running in the second half of qualifying, James was forced to start race two from the back of the grid but took just one lap to find his way to seventh spot. Pushing hard in the latter stages of the race, he was rewarded with a fourth place finish. With just a half-car length behind third place man, Venter, James was left to reflect on the podium position that might have been.
Following a strong debut, Team Principal, Mark Godwin, said: "I think we've made a very good start but there's still a long way to go, both in the championship and in the development of the car. We're under no illusion that we still have a lot of work to do but as a team we can come away happy.
"Jan showed great consistency, James pulled off some superb overtakes and all credit to Matt who drove two superb races. Oulton is very much a driver's circuit but we look forward to the challenges that await us at the remaining tracks. As a team we know what needs to be done to move forward, so now it's all hands to deck to get the improvements in place before Donington on April 22."
Speaking of the day championship leader, Matt Mason, said: "It couldn't have gone better. I've been working hard on my race preperation running up to the race and it's great to see it paying off."
"We had a solid qualifying and consistent laptimes and that's what ultimately clinched the victories. The team did a great job and I'm really pleased with the results. It's been an absolutely perfect start to the championship."
Commenting on his first experience at the popular Oulton Circuit, James Fletcher, said: "Overall it's been a good weekend. To get a podium in my first time at Oulton is great, I'm very happy.
"Having not managed to get out in the second qualifying session was unfortunate and meant we faced an uphill struggle. I think we can be pleased with fourth but had we had another lap or two, third would have been firmly in our grasp, but that's motor racing!"
"The guys did a great job, the pit crew have been top and the racing was exciting, you couldn't ask for more."
MGR Motorsport results
Qualifying one:
Matt Mason Q1: 1:25:179
James Fletcher Q4: 1:25:930
Jan Schwitter Q5: 1:26:375
Qualifying two:
Matt Mason Q1: 1:24:973
Jan Schwitter Q4: 1:25:999
James Fletcher: DNQ
Race one:
Matt Mason P1: 20:12:637
James Fletcher P3: 20:25:101
Jan Schwitter P5: 20:29:230
Race two
Matt Mason P1: 20:20:295
James Fletcher P4: 20:38:124
For enquires about the services offered by MGR Motorsport or joining the team, please contact: 07803 020 672 or e-mail info@mgrmotorsport.co.uk

James has also been announced as one of the trio of drivers making up MGR Motorsport's 2012 Renault entry. The Surrey youngster is eager to add to his impressive tally of 16 career podiums and seven race wins to date.
Team Principal, Mark Godwin, said: "We're very much looking forward to competing in the InterSteps Championship with James, Matt and Jan. We feel the series is a perfect match with our team ethos of developing the skills of talented young drivers.
"We have a strong relationship with all of our drivers and they are very evenly matched in terms of raw ability. It will be great to see them develop and push each other throughout the season.
"There is a very positive atmosphere throughout the team, we're all eager to get started at Oulton Park on March 24th."
It is the only UK Championship in 2011 to be granted "U18 Compliant" status by the MSA for the care it took in safeguarding the educational needs of the young men and women competing.
For further information, please visit the BARC.net site

5TH MARCH 2012
MGR announces strong driver line up for BARC Formula Renault campaign
MGR Motorsport team is proud to announce it will enter the BARC Formula Renault championship with two drivers retained from 2011, David Wagner and James Fletcher and new signing, 16-year-old karting star, Jake Dalton.
Led by Team Principal Mark Godwin, MGR Motorsport ended the 2011 as the front running Renault BARC team when they won the final round of the 2011 championship at Silverstone as part of the British Touring Car Championship.
Mark said: "I'm delighted with our decision to return to the BARC Formula Renault championship. Our focus at MGR is on developing some of the world's most promising motoring talent and following a strong premier season in the championship we look forward to seeing what the coming year has in store.
"The championship series visits some classic British circuits across the length and breadth of the country, providing our fans the ideal opportunity to come and support us trackside and offering some great exposure for our sponsors.
James Fletcher said: "After picking up my first win in Formula Renault with MGR after just a handful of outings in the car in 2011, I'm very excited to be back with the team for a second season.
"I've put in a lot of work during the winter training and I'm eager to get back on track and see if it's paid off."
Staffordshire youngster, Jake Dalton, said: "I'm very happy to have signed with MGR for 2012. Mark has a lot of experience and I'm looking forward to learning all I can.
"I'm really excited to be competing in one of the best feeder series in the UK and pitting myself against talented drivers from around the world."
David Wagner adds: "MGR are a very professional, well run and friendly team and they know how to get the most out of their drivers. It is a privilege to be racing with them again."
Leicestershire-based MGR Motorsport provides a blend of excellent race car preparation and individually tailored driver development and coaching to give drivers the very best chance of success.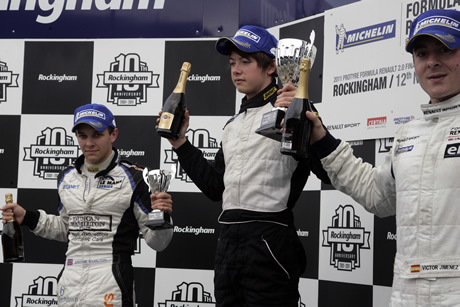 Team wins four from seven events.
The Rockingham finals of the BARC Winter Series saw a perfect perfomance by the team's new driver, James Fletcher. James secured two pole positions during qualifying on a slippery circuit, and in the races converted both of those into dominant wins, trouncing the Fortec team's pre- weekend points leader Archie Hamilton in the process.
Fletcher also secured fastest lap in both races, and had his car up amongst the much more powerful UK Championship cars in the process ! All in all a very impressive performance by the newcomer which bodes well for both the driver and team MGR for 2012.
http://www.renaultsport.co.uk/championships/formularenaultuk/news/ObjectId/6051/Default.aspx
This great weekend now means that MGR has won 4 of their last 7 BARC Renault events…

The Silverstone BTCC round of the Protyre BARC F Renault brought a season's best performance by Team MGR, with drivers Matt Mason and David Wagner both qualifying and racing strongly in top 6 positions, including a pole position and maiden win for Nottingham driver Mason.
Following recent development improvements by the team, Wagner qualified a season best 4th for round 11, with team mate Mason placing a slightly disappointed 7th – however only 0.1 seconds covered grid positions 3-6, so the grid could easily have looked very different.
Come the race, the Mason's weekend got a whole lot worse when his car refused to start on the grid, and he was obliged to start the event from the pit lane. However, he drove a storming race and scythed through the 22 car field to finish 9th, with 3rd fastest lap time. David Wagner had a really strong race, battling over 3rd position with title contender Zamparelli and pulling off some fine passing moves. Unfortunately, whilst holding 4th place, David was awarded a drive-through penalty for exceeding track limits, this costing any hope of a top finish.
Round 12 looked even better for the team, Wagner improving his season best to qualify 3rd, and Mason trouncing everyone, including the 3 title contenders, by securing the pole. At the race start, Matt Mason lost the lead to Josh Webster, but re-took it at Becketts with a brave and decisive lunge down the inside line. Matt then withstood race-long pressure from points leader Webster to hold the lead until the end, delighting his family and supporters:

"This is the one round we've been talking about to our sponsors, saying how it was live on ITV, and we were hoping we'd be up there for it. To actually win the race, it couldn't have been any more perfect. MGR have been fantastic all year and I appreciate all of your efforts so much!"
David Wagner also drove a very strong race, battling hard for 3rd with eventual Champion Dino Zamparelli, and finally annexing 4th. These 4 drivers being the only ones lapping in the sub 57 seconds bracket during the race.
This capped a great weekend all round for the MGR team, still less then one year old, and promises well for the upcoming Winter Series and 2012.

27TH SEPTEMBER 2011
Brilliant Thruxton for MGR Motorsport!
The MGR Motorsport squad has continued to build on their fantastic start to the season with a series of strong results for their team drivers David Wagner and Matt Mason, culminating with season best results at the recent Thruxton meeting.
Wagner qualified for both races in the top ten, racing to his personal season best of sixth in race 1 and challenging for another sixth place in race two before another driver spun into him causing his retirement. Undeterred he commented afterwards, "I was very disappointed as I get stronger and stronger as the race goes on, but it is still my best result of the year."
Mason had an even better weekend, qualifying for both races in the top three and racing to finish fourth and second - by far his best race results all year. Following their philosophy of nurturing and developing young driver talents, MGR have steadily worked on building the experience and confidence of their drivers who are both in their first full year of open-wheel car racing having moved up from karting.

Team principal Mark Godwin is very satisfied with their individual progressions and commented, "I'm really happy that both David and Matt are working hard at developing into professional young car racers. The move from karts to cars is a big step to make and there's much to take on board, but these guys are doing a great job and reaping the rewards of all the effort we put into coaching them and providing the equipment they need to perform."
The team head to the Silverstone circuit for Rounds 11 and 12 on Saturday 15th and Sunday 16th October where they race as part of the prestigious British Touring Car Championship programme.

27TH SEPTEMBER 2011
Solid results for MGR at Croft
All three MGR Motorsport's drivers secured top 10 finishes at in the Formula Renault Championship at Croft Race Circuit on 24th July with Luke Wright finishing in an excellent 4th place in race 1.
Croft is a technical track, with a mix of long, fast corners and some really slow and tight sections. The MGR Formula Renault machines performed faultlessly and all 3 drivers made it to the finish in both races. Matt Mason finished 8th in race 1 and 15th in race 2 after an off road excursion. David Wagner put in two strong drives to secure top ten finishes after a difficult qualifying that left him 17th and 15th positions on the grid.
MGR Motorsport's Mark Godwin said, "I was very pleased with our results at Croft. The new boys are settling in well and Luke showed what our cars are capable of and narrowly missed out on a podium finish. Both David and Matt raced well and run at a race pace within the top 5. We just need to work on their qualifying and we will be right at the front."
The team head to Thruxton for Rounds 9 and 10 on Saturday 3rd September.

28TH APRIL 2011
Excellent start to MGR Motorsport's Formula Renault Campaign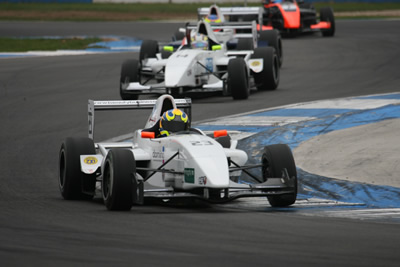 MGR Motorsport's 2011 Formula Renault season got off to an excellent start at the first two rounds of the season at Donington Park Circuit on 24th April. All three of MGR's young drivers: Matt Mason, David Wagner and Russell Danzey managed to score top ten positions on their first race weekend with the team.

28TH APRIL 2011
MGR sign three drivers for Formula Renault campaign
Mark Godwin Racing are pleased to announce the signing of three drivers Matt Mason, David Wagner and Russell Danzey for their Formula Renault BARC campaign. All three drivers have had very successful karting careers and have chosen MGR to manage their transition to single seaters.
Mark Godwin states, "I am delighted that we have been able to attract Russell, David and Matt to the team. They are all exciting talents and have proven themselves in karts. We hope to develop their skills to get the best from our race cars and onto the podium very quickly."

Contact MGR
We welcome all enquiries; whether you're looking to contest an entire season with MGR or simply want to arrange an initial test. For more information please contact:
Mark Godwin (Team Principal)
+44 (0)7889 881 430 / mark@mgrmotorsport.co.uk
Steve Lynch (Team Manager)
+ (0) 7771 614 695 / steve@mgrmotorsport.co.uk